Posted on
Thu, Sep 5, 2013 : 5:59 a.m.
Longtime Farmers Market fixture Mildred Parker dies at 98
By Ben Freed
Mildred Parker, one of the longest-tenured vendors at the Ann Arbor Farmers Market, died Sunday at the age of 98 at her home in Milan.
Parker had been selling eggs, vegetables, and small crocheted creations at the market for more than 65 years, her children said.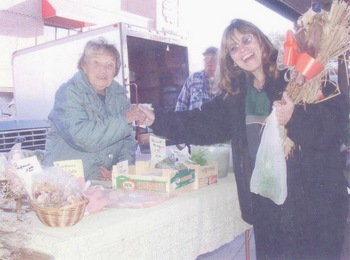 Courtesy of the Parker Family
"I've been going almost my whole life," her daughter
Ilene McCrea
said.
"She would tell people that when she first started going, she'd have to bring me in a playpen. I'm 70 now so she must have been going for the past 68 years or so."
Parker was born in Belmore, Ohio in 1915 and moved to the Milan area as a young girl. She married Merl Parker, who first brought her to the Farmers Market.
"The way I take it, she didn't like to go at first, but my dad wanted to go so she more or less went for him," Mildred's son Marvin Parker said.
"Then she had a lot of friends and she kept going back for that."
In the early years, the Parkers primarily sold eggs at their market stand. McCrae remembered her mother devoting long hours to ensuring that each egg she sold was in good condition.
"She would candle each egg and look at it to make sure there were no blood spots," McCrae said.
"Then we had an old fashioned egg scale and she would weigh them to see what size they should be. We'd go early in the morning to the market and then after we were done we'd have egg routes and sometimes we wouldn't finish until 8 p.m. delivering eggs right to people's doors."
It has been years since the Parkers delivered eggs to customers doors, but Marvin said the relationships she developed at the market are what kept her coming back.
"It was in her blood, I guess," he said.
"Every Saturday we'd get up at 3 o'clock in the morning to go with her. Later on we'd have to bring a wheelchair to get her to the car and then to the table but she'd be there and she'd be there all day."
In the past few years, Mildred turned her attention from produce to fashioning various items with yarns and cloth.
"She made these great little catnip bags, and little monkey puppets. I would buy the catnip bags for my cat," fellow vendor Mary Wolfe said.
"She did a lot of needlework and crocheting. That sort of thing is kind of a lost art these days."
Other vendors at the market remembered Parker as a fixture at her booth and someone who could be relied on if they needed a hand.
"She was very friendly, I'd always stop and chat with her when I walked around" Dwight Carpenter, who has been running a booth at the market for a number of years, said.
"And I never saw her get upset about anything. Lots of things happen here and people sometimes get angry with each other, but I never saw her ranting or raving or carrying on. Everyone just liked her. We're all going to miss her."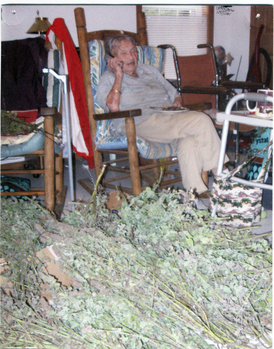 Courtesy of the Parker Family
McCrae said the feeling was mutual, and that her mother was especially attached to the relationships she made with some of her long time customers.
"She had her own family and then her family at the market," she said.
"The growers were family, the customers were family; she knew everybody. Some of her customers now are the children and grandchildren of her original customers. There was one couple who would go on trips around the world and send my mother letters and bring her back pictures."
Alex Nemeth is the only vendor at the market who has been around for longer than Parker. He says he started coming 82 years ago, when he was just 1 year old.
"The market was a lot different back then, but some people like Mildred and me just can't stay away," he said.
"You enjoy coming back because you enjoy the people."
Parker continued to enjoy the market and enjoy the people in her final years. Kathy Kohlman is a relative newcomer to the market but has set up her Mind Your Bees Wax booth next to Parker's for the past two years.
"In the last couple years she's really been a grandma figure to me," she said.
"She still came almost every week and has just been the sweetest person."
But Mildred Parker didn't only attend the market to see friends and 'family.' She was a cook and dietician at Milan Public Schools and worked at the Platt Road Greenhouse, but the Farmers Market sales were a significant source of income for the family.
"She paid for my college by going to the Farmers market," McCrae said.
"… I'm in sales now, and that's where I got my sales skills. I would never be able to do what I do now if I hadn't been brought up at the market."
A visitation for Mildred Parker will be held Friday, Sept. 6, at 12 p.m. with a memorial service to follow at 2 p.m. at the Cover Funeral Home, 297 Tecumseh St. in Dundee.
Ben Freed covers business for AnnArbor.com. You can sign up here to receive Business Review updates every week. Get in touch with Ben at 734-623-2528 or email him at benfreed@annarbor.com. Follow him on twitter @BFreedinA2