Posted on
Tue, Feb 5, 2013 : 5:59 a.m.
University of Michigan professor Michael Cohen remembered as key to creating public policy, information schools
By Kellie Woodhouse
Related article: Memorial service honoring Michael Cohen to be held Saturday at the Michigan Union
Though characterized by family and colleagues as a wise, intellectual leader, a connector of people and a founding member of two prestigious University of Michigan colleges, Michael Cohen refused a goodbye party when he retired last summer.
The longtime information and public policy professor was both influential and understated, his colleagues say.
University of Michigan photo
"He hated being the center of attention," recalled Jerry Davis, a professor of management at U-M's Stephen M. Ross School of Business who worked with Cohen on the Interdisciplinary Committee on Organizational Studies, a group oriented toward strengthening collaboration among fields. "He said 'No, don't even give me a toast.'"
On Saturday, Feb. 2, Cohen died at 67. He was fighting prostate cancer and succumbed to complications involving pulmonary hypertension, according to his family. "It was sudden," his daughter Rachel said.
Cohen is survived by his wife Hilary and two daughters, Rachel and Amy.
While Cohen was widely known for being "warm and humble," according to Davis, he also was known for his ability to create, whether his product be connections among friends or schools that shape U-M's academic reputation today.
The U-M School of Information was in part born at his kitchen table in the mid-1990s, over wine, cheese and discussion among fellow faculty.
"He was one of the most important, most central people in creating the school," said Jeff Mackie-Mason, the School of Information dean. "He's always been one of the most visionary, wise and deep-thinking faculty I know."
Mackie-Mason first met his mentor 33 years ago, when he was a master's student in one of Cohen's classes. Eventually, Cohen and Mackie-Mason would collaborate together as they helped found the school of information and, later, as they co-taught courses together.
"He's been my teacher, my colleague, my friend. Always my teacher," he recalled. "Everybody is made wiser and more caring by interacting with him. He's the type of teacher that people look back and say 'He's the one who really changed my life.'"
Cohen also was involved in creating the Gerald R. Ford School of Public Policy, which existed as an institute prior to 1995.
He and his wife moved to Ann Arbor from California in 1973 so Cohen could teach political science. He gradually began teaching information courses and served as a visiting professor in Norway and New Mexico, among other places. His intellectual interests were varied. In fact, his last article was published in a medical journal and, prior to his death, he was in the midst of writing a book. Upon Cohen's June 2012 retirement, the school of information named a service award in his honor.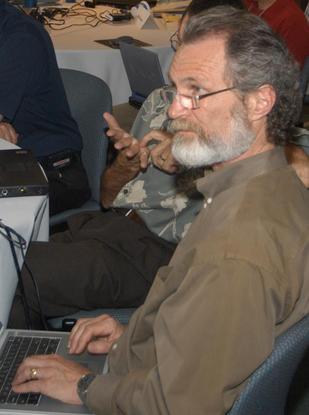 Facebook photo
"He was really instrumental in building that interdisciplinary nature that remains a hallmark of the Ford School," said Susan Collins, dean of the public policy school.
Among his colleagues, he's known as someone who can easily make connections between people. "He had this ability to see productive connections that could be made and make it happen," said Davis, who added that Cohen's connections always were point-on.
Added Collins: "He was somebody that really had a lot of respect from a lot of the intellectual giants on campus."
His daughter Rachel said her father didn't boast about his work on campus.
"He used to say it was never important for him to have credit for things," said Rachel. "He was interested in being part of life."
He enjoyed traveling and listening to music. He would often take long walks. Once, during a year of sabbatical, he walked along the entire Huron River in Ann Arbor, traveling from park to park, according to his wife Hilary.
A sailor, he would often sail from St. Lucia to Grenada with Hilary.
"He was quite adventurous," recalled Hilary. She and her husband lived in the same Burns Park home since they moved to Ann Arbor.
According to his family, Cohen played with his children often when they were young, building block towers with them and reading them to sleep. When they got older, and one became a writer while the other pursued community organizing, he liked to discuss their professions.
"He loved our girls so much. He loved hanging out with them, he loved supporting them, learning about what they are interested in," Hilary said. "He was immensely gentle and patient."
A memorial service in honor of Cohen will take place 11 a.m. Saturday, Feb. 9 on U-M's campus, although the exact location hasn't yet been determined. Those interested are encouraged to donate to the Michael Cohen Memorial Scholarship in lieu of flowers.
Kellie Woodhouse covers higher education for AnnArbor.com. Reach her at kelliewoodhouse@annarbor.com or 734-623-4602 and follow her on twitter.