Posted on
Sun, Sep 11, 2011 : 5:59 a.m.
Losing Alicia: Dad who lost daughter in 9/11 attacks turns to writing to help understand the tragedy
By Janet Miller
When Alicia Titus, a flight attendant on United Airlines 175, died in the Sept. 11 terrorist attacks, her father turned to writing. It was a place to park his grief.
10th anniversary of 9/11
John Titus
, who was living in Dexter Township at the time, wrote every day.
"It was a good release. Cathartic," said Titus, who now splits his time between his Michigan home and a home outside of Dayton, Ohio.
"I had to process the confusing feelings. I wrote and I'd cry. I'd read what I wrote and cry. Then I would write some more and cry."
He was trying to understand what was behind the Sept. 11 attacks.
---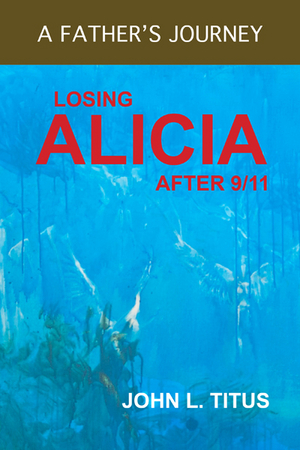 Review of "Losing Alicia"

"This book isn't the government or the media's take on 9/11, it's a father talking…with all the pain, eloquence and wisdom of a broken heart. For the real story of 9/11 -- the human story -- delve into Losing Alicia. If you read one book about 9/11, make it this one." - Marianne Williamson, New York Times best-selling author, international speaker.

---
"I was trying to understand a political system that let this happen. I was trying to understand why it wasn't prevented. I was trying to understand why social injustice in the world will bred and perpetuate such violence against one another," he said.
By the first anniversary of Alicia's death, Titus had a substantial body of work. Friends encouraged him to publish it as a book.
"I had a lot of self-doubt. It was my own journal," he said.
But he took it to a publisher, who made suggestions for revisions. As he began the re-writing process, it became too painful. "I was reliving 9/11 and all the grief and pain. It became too much and I had to put it down."
He also had to balance it with his growing work with the peace and justice movement, and his day job at Schoolcraft College in Livonia as an administrator and mental health counselor.
The book sat on the back burner.
But as the 10th anniversary neared, Titus knew it was time to bring it back out. He retired in 2009 to have more time to work with the social justice movement.
And to write.
"It took me a couple of months to get back to an emotional state where I could work on it," Titus said.
"Losing Alicia: A Father's Journey After 9/11" was published through FriesenPress at the end of August. The goal for Titus was to connect the public with the human side of the attacks.
"I wanted to put a face on the pain and suffering of a family member, of losing a child to political violence in such a horrific manner," he said.
He writes about the depth of the pain, the sadness, the sorrow and the feelings of depression, he said. "This wasn't just normal grief."
Titus has also been working to make a statement against the wars that have resulted because of the attacks.
"I knew more innocent people like Alicia would die. I did not believe I could be part of that," he said.
Instead, he said, those responsible for the attacks should have been brought to justice through an international court of law.
So Titus became part of September 11th Families for Peaceful Tomorrows, a name that was borrowed from the Martin Luther King quote, "Wars are poor chisels for carving out peaceful tomorrows." He and the organization have carried an anti-war, social justice message across the country.
"By striking back we are perpetuating the cycle of violence," Titus said.
He has spoken around the country, Canada and in Italy, advocating peace. He's spoken on college campuses and churches. He's attended the American Muslim Voice Convention and the Department of Peace Conference. He attended the Alleati per la Pace conference in Riccione, Italy, and the Global Nonviolence Conference.
The 10-year anniversary puts the terrorist attacks back in the spotlight. It's packed the days for Titus and his wife, Bev.
"All-day and evening events have been pretty much non-stop," he said earlier this past week. He's had at least 15 interviews from the news media and he's attending events and services in and around Urbana University in Ohio, where he serves on the board.
A memorial honoring Alicia and those who lost their lives in the 9/11 attacks was built on Urbana's campus, and includes a 16-foot section of one of the towers. On Sunday Titus will speak at a ceremony at the memorial and will attend a service earlier in the day about imaging peace. The day will be full.
Still, it's all so tiring, Titus said. You never get used to losing a child. The emotions are not so far under the surface, not even 10 years later, he said. "You feel drained. But you just learn to live with it."
"Losing Alicia: A Father's Journey After 9/11" can be ordered through FriesenPress at www.friesenpress.com/bookstore. It can also be ordered through Amazon.com.