Posted on
Fri, Jan 4, 2013 : 5:59 a.m.
Will Washtenaw County lose lucrative union conventions in wake of right-to-work passage?
By Amy Biolchini
Right-to-work laws signed by Gov. Rick Snyder Dec. 11 that overturned decades of closed-shop agreements between employers and unions in Michigan may have future economic implications for Washtenaw County.
The potential loss of several major union conventions that bring millions of dollars and thousands of visitors annually to the area could be the biggest impact to the county as a result of the legislation, said Paul Gallagher, an Ann Arbor lawyer who represents both the county and local unions.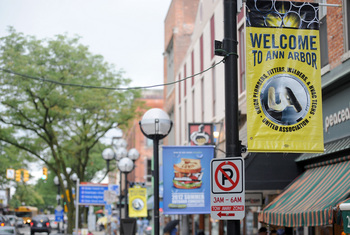 Angela Cesere | AnnArbor.com
Gallagher was one of several speakers asked to contribute to the
Washtenaw County Board of Commissioners
' discussion on the impacts of right-to-work during its first working session of the new term Thursday night.
"Frankly, the thought of losing such a large percentage of people who come here and drive our economy is pretty scary," said Commissioner Andy LaBarre, D-Ann Arbor.
Large union conventions — including the United Association of Journeymen and Apprentices of the Plumbing and Pipe Fitting Industry (UA), the International Brotherhood of Electrical Workers and the National Joint Apprenticeship and Training Committee of the National Electrical Contractors Association — choose to host their annual events in Washtenaw County partly because of the union-friendly atmosphere, Gallagher said.
The UA moved its convention to Ann Arbor after 37 straight years of holding the event at Purdue University in Indiana because of a subcontract the university executed with a non-union company, Gallagher said.
The three union conventions bring about $12 million into the county's economy per year, and account for 22,000 hotel nights per year, said Mary Kerr, president and CEO of the Ann Arbor Area Convention and Visitors Bureau.
The UA convention at Washtenaw Community College alone brings in an estimated $5 million to the county's economy and accounts for about 2,200 visitors. The convention lasts for one week in August, a time when there are few other major events in Ann Arbor.
"If those conventions are lost from Washtenaw County's economy, a major manufacturer or two would have to come to the area … the Ford Saline plant would have to re-open," Gallagher said.
Under right-to-work policies, employees will be able to receive the same benefits and compensation as union employees without having to pay membership dues or be affiliated with the organization. The right-to-work legislation made union security clauses that required employees to pay union dues or an agency fee in union contracts illegal.
About 85 percent of the workers employed in Washtenaw County operations belong to a union, with the exception of about 300 employees who work for the sheriff's office. The county has contracts with 17 different unions, two of which are for police services.
The right-to-work legislation goes into effect as of March. The county's contracts with the two largest unions representing its employees — AFSCME Local 2733 and Local 3052 — end Dec. 31, at which point provisions made possible under right-to-work will become available to those workers.
A total of 1,048 union-represented county employees paid nearly $455,000 in dues last year — an average of about $434 per worker, according to data provided by the county.
Nancy Heine, president of AFSCME Local 3052, said union dues are mostly used to pay to fight for labor causes at the national level. When there are local arbitration issues, the state-level union offices get involved.
Heine said she fears right-to-work will mean fewer employees will choose to be in a union, resulting in less union dues to help the body fight for workers' rights when it's needed.
"It will render us useless when we get in to trouble," Heine said. "Arbitration cases will stay in limbo for years."
The Board of Commissioners will likely resume its debate on how to address right-to-work in the future, as commissioners LaBarre and Conan Smith, D-Ann Arbor expressed interest in board action.
"I do think we should dig in to some of the options we have in terms of framing the labor practices here in Washtenaw County. One … since the law doesn't take effect until March, we have the option of working with our bargaining units to extend their contracts for some period of time such that we remain a right-to-work shop," Smith said.
Smith said he believes the county should act to be prepared in the event non-management employees opt out of their union once they are eligible to take advantage of the right-to-work provisions.
"The benefits that the union provides be they economic, social, protective … in my opinion, they should not accrue to those people who don't pay to play. It would be akin to us saying to the people in Washtenaw County, that we're going to put a tax out on the ballot, a majority of people are going to approve that tax, but then you have the option not to pay but still receive the services," Smith said. "That is obscene, and we shouldn't be forwarding that as a policy environment in Washtenaw County."
At the commission's full meeting Wednesday night, the two Republicans on the board -- commissioners Alicia Ping, R-Saline and Dan Smith, R-Northfield Township -- said they supported the update on impacts of the legislation, but were not interested in the board adopting symbolic resolutions on its position regarding the right-to-work bills.
Amy Biolchini covers Washtenaw County, health and environmental issues for AnnArbor.com. Reach her at (734) 623-2552, amybiolchini@annarbor.com or on Twitter.