Posted on
Fri, Jul 6, 2012 : 8:43 a.m.
M-14 closed at Barton Drive near Ann Arbor; US-23 also affected
By Paula Gardner
This story has been updated; see below.
An Ann Arbor-area highway was closed in both directions after a truck rollover Friday morning resulted in a possible hazardous materials spill.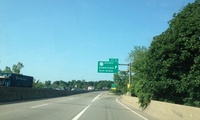 Christofer Machniak | MLiveMediaGroup
M-14 was closed to both eastbound and westbound traffic at Barton Drive after the 7:30 a.m. crash, according to the Washtenaw County Sheriff's Office.
As a result, westbound M-14 traffic was being diverted to northbound US-23.
Southbound traffic on US-23 had found that the highway was closed at North Territorial Road, between Brighton and Ann Arbor - but that route was reopened just after 11 a.m.
Eastbound M-14 traffic is being routed off of the highway at Barton Drive.
Derrick Jackson, director of community engagement for the sheriff's office, said the Michigan State Police is supervising the scene. Jackson said a cleanup crew was sent out as a precautionary measure since officials couldn't immediately identify was being transported in the truck. Jackson said the driver is "alert and moving around" and the rollover may have been a one-vehicle accident.
Update as of 11:10 a.m.:
At 7:25 a.m., a semi flatbed truck carrying a train car full of benzene dicarboxylic acid spilled on westbound M-14 near Barton Drive. Officials are saying the acid does not pose a danger to any residents in the area. It is used in the manufacture of food and beverage plastics, dyes, perfumes and medicines. No other vehicles were involved in the accident. Ann Arbor Township Fire and the Washtenaw County HazMat team are cleaning up the spill. Sand trucks are being used to absorb the material at this time. The Huron Valley Ambulance sent its hazmat medical support team, Mobile Operations Center and one paramedic unit to assist.
Updated at 11:46 a.m.:
From the Michigan State Police: Southbound US-23 is now open to eastbound M-14 - all traffic will be funneled to eastbound M-14, where the drivers can then head east to I-275 or south on US-23 to I-94.
Updated at 12:46 p.m.: One tow company worker was physically exposed to the acid product - it splashed on him when he dropped a piece of equipment in a standing pool of product. He was decontaminated by the Washtenaw HAZMET Team and was transported to U of M hospital as a precaution. Westbound M-14 remains closed at US-23.
Updated at 4:15 p.m.: The tow company worker was treated at the scene after exposure to the acid product but refused transport to U of M hospital according to HVA spokeswoman Joyce Williams. The driver of the truck was transported in an HVA ambulance shortly after the crash. He was in stable condition.

View 2012 Washtenaw County Traffic Reports in a larger map