Posted on
Tue, Dec 6, 2011 : 5:58 a.m.
Macy's Santa Bus to benefit Make-A-Wish will arrive in Ann Arbor to fanfare
By Danielle Arndt
Directly from the Macy's Thanksgiving Day Parade, Santa Claus is coming to town.
He will forgo the sleigh and reindeer and even his recent parade float to arrive in style aboard a large, "jolly" charter bus.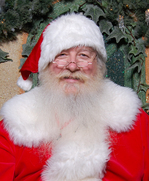 Courtesy photo
"It's red — bright red," said
Meghan Mair
, spokeswoman for the
Make-A-Wish Foundation
. "You can't miss it."
The National Macy's Santa Bus Tour, benefiting Make-A-Wish, will post stops in Detroit and Ann Arbor Tuesday, beginning at the Children's Hospital of Michigan and ending at Macy's in Briarwood Mall.
In Detroit, Claus and his elves will pass out toys to ill children and spread holiday cheer throughout the hospital.
Prior to battling shoppers at the mall, Claus will visit with local Make-A Wish families and chapter members from the University of Michigan's Chi Omega Sorority.
The sorority house will welcome families that have been impacted by Make-A-Wish. Its chapter mother is baking cookies and members will lead guests in activities and on tours of their festively decorated home, Mair said.
At 5:45 p.m., Santa's bus will roll into the parking lot outside Macy's at Briarwood Mall with a police escort and to the sounds of a marching band and U-M cheerleaders. The event is open to the public, and parents are encouraged to bring their kids to take a picture with Claus and to write him a letter with their wish lists.
For each letter mailed to Claus using Macy's in-store "Santa Mail" letter boxes, the department store will donate $1 to the Make-A-Wish Foundation. Since its "Believe" campaign began three years ago, Macy's has contributed a total of $3 million to the foundation.
This is the second year Macy's national Santa tour has stopped in Michigan. Last year, Claus visited Grand Rapids. He left New York immediately following the Thanksgiving Day Parade to launch his 26-city trek, which will wrap up on Dec. 23, just in time for Christmas Eve.
The purpose of the bus tour is to raise awareness of the Believe campaign. For more information on Macy's efforts and the Make-A-Wish Foundation, visit www.macys.com/believe or www.wish.org.
Staff reporter Danielle Arndt covers K-12 education for AnnArbor.com. Follow her on Twitter @DanielleArndt or email her at daniellearndt@annarbor.com.