Posted on
Sun, Jul 7, 2013 : 5:59 a.m.
Light poles on Ann Arbor's iconic Main Street rusting from the inside out
By Ryan J. Stanton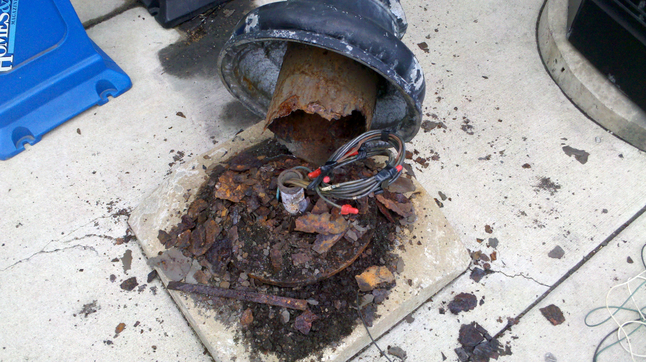 City of Ann Arbor
Ann Arbor
officials say
replacing the decorative streetlights on Main Street
isn't about aesthetics or another downtown beautification project — it's an urgent need.
The light poles are rotting from the inside out, and internal rusting already caused two them to topple from storm winds last year.
Two others were deemed in immediate risk of falling and were replaced.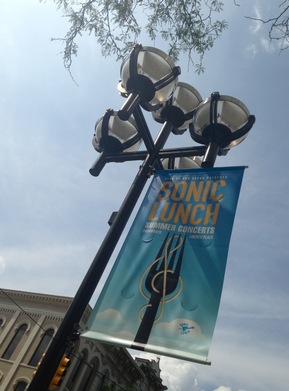 Ryan J. Stanton | AnnArbor.com
Now the city is preparing to spend roughly half a million dollars to replace all of the Main Street light poles from William to Huron streets — 81 of them, to be exact.
"Replacing the poles is urgent," said Mayor John Hieftje. "From what staff has told me, if we were to have a good wind storm, we could see several of the poles come down."
Hieftje said his biggest fear is one of the light poles could fall and injure someone, and that's not something anyone wants to see happen.
"Main Street is kind of an iconic spot in our town," Hieftje said. "And to have the light poles falling over in one of the areas of our city that people identify with, that sounds like a disaster to me."
The estimated $516,000 cost to replace the streetlights on Main Street includes new decorative poles with banner brackets and LED light fixtures — including two poles that will be taller to accommodate banners being strung across Main Street for special events.
The Downtown Development Authority's governing board voted last week to appropriate $300,000, leaving another $216,000 for the Council Council to approve.
The council meets next on July 15.
DDA officials said the decorative streetlights — including some with multiple LED globes — have become an important symbol of the Main Street commercial area.
DDA Executive Director Susan Pollay said she believes they were installed sometime in the early 1980s, one of the first installations of pedestrian-scale lighting in the DDA's history.
"It's hard to see it on the outside, but on the inside they are deteriorating — rusting. Water has gotten in," Pollay explained. "And so city staff have been trying to figure out a way to get them replaced as part of the city budget process. It was resolved the DDA was to assign $300,000 to this project."
The $300,000 from the DDA is coming from property taxes paid by downtown property owners that go to the DDA. The DDA nets about 17 percent of property taxes from downtown properties.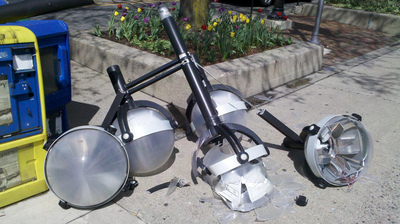 City of Ann Arbor
Pollay said most streetlight poles last much longer than 30 years, but based on information provided by the city's staff, it seems this particular type of pole had a structural problem holding water, which led to them rusting out.
She said city staff members have let the DDA know the new-generation streetlight poles don't have the same problem and have proven to be far more durable.
The project will include replacing the globe fixtures with new LED lights. Craig Hupy, the city's public services administrator, said though the LED lights on Main Street are newer, it makes sense to replace them at the same time as the light pole replacement.
"The LEDs that are there are nearly first generation with a life expectancy of about 8-10 years," Hupy said. "Current technology is for LEDs that last up to 20 years."
Hupy said there is a major expense in taking out the LED "guts" and putting them back in a new globe, only to repeat the process in about five years. That's why he believes it makes sense to put the new LEDs in now and not worry about revisiting them for potentially 20 years.
City staff discovered the poles were corroding under the decorative bases last year after two of them fell. Hupy said most of the others still standing are in a deteriorated state.
Pollay said the replacement of the rusted-out streetlights is expected to start in September and finish by the end of the year. The effort is being coordinated with the Main Street Area Association, taking into consideration holiday lighting plug-ins and banners that hang from the poles.
Maura Thomson, executive director of the Main Street Area Association, said she's glad to know new streetlights are on the way.
"They are in desperate need," she said. "This is great news for Main Street."
Ryan J. Stanton covers government and politics for AnnArbor.com. Reach him at ryanstanton@annarbor.com or 734-623-2529. You also can follow him on Twitter or subscribe to AnnArbor.com's email newsletters.