Posted on
Wed, Dec 2, 2009 : 9:40 a.m.
Man, 28, gunned down outside Pittsfield Township home
By Amalie Nash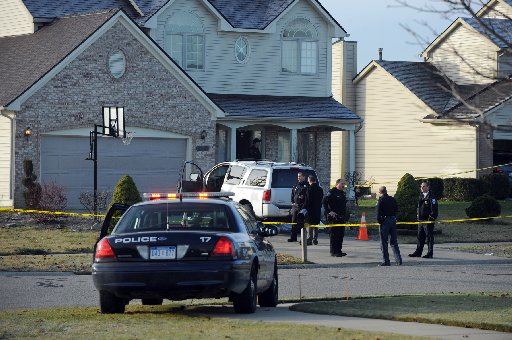 Lon Horwedel | AnnArbor.com
A 28-year-old man was gunned down outside a Pittsfield Township home early today as 20 children were waiting for the school bus a short distance away.
Responding police officers arrested the shooting suspect just outside the home on Rockport Court in the Arbor Creek subdivision, a gun still tucked in his waistband, police said.
Pittsfield Township Public Safety Director Matt Harshberger said police are still sorting out the details of the shooting, but he said it was not random.
"There was some sort of interaction between the two," Harshberger said. "We do not know all the details at this point and are interviewing multiple witnesses, but we're confident we have the only suspect in custody."
The victim of the shooting did not live at the home; the man under arrest lives there, Harshberger said. He said a handgun was used in the shooting.
Around 8:30 a.m., several people called 911 to report multiple shots fired near the driveway of the home, Harshberger said. Some family members also were inside the home at the time.
A Nissan Armada sat in the driveway of the home after the shooting with the driver's side door open. A body lay on the ground on the other side.
Jerylyn Holyszko said her children told her about the shooting.
"They just came running home and said there was shooting at the bus stop. My kids said he shot six times inside the car and called 911," Holyszko said.
The 28-year-old was declared dead at the scene, Harshberger said.
The suspect did not resist when officers approached him, Harshberger said.
The area around the home was cordoned off with police tape, and multiple police cars, as well as the Washtenaw County Medical Examiner's Office, are on the scene.
Harshberger said the case will be forwarded to Washtenaw County prosecutors tomorrow to review for criminal charges.
It was the first homicide in Pittsfield Township this year, police said.
Updated stories: • Posted 6:42 p.m. - Victim identified in fatal shooting near Pittsfield Township bus stop • Posted 12:05 p.m. - Witness recounts shooting near Pittsfield Township bus stop that killed 28-year-old man
Lee Higgins of AnnArbor.com contributed to this report.