Posted on
Thu, Jul 7, 2011 : 2 p.m.
Milan man charged with killing goose tells police: It didn't move out of the way
By Heidi Fenton
When asked by police why a Canada goose was found lying dead behind his vehicle in an American Legion parking lot, a 69-year-old Milan man offered a simple reply: It didn't move out of the way.
Norman Stowell said he didn't mean to run over a group of animals May 14, but he was not going to stop, wait or drive around them to get to a parking spot.
"I might not run over a dog, but I would definitely run over a cat," Norman Melvern Stowell told an officer who interviewed him that day, shortly after the goose was found.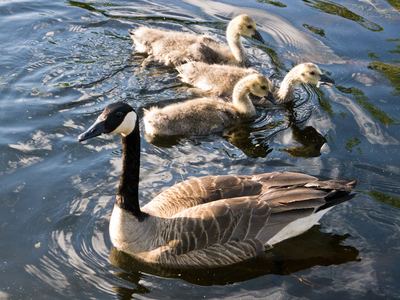 Steve Pepple | AnnArbor.com
That statement, detailed in a Milan Police report, was taken shortly after neighbors living nearby called to report a man had driven over a group of baby Canada geese just after 7 p.m.
Stowell was arraigned Wednesday before Magistrate Camille Horne in Washtenaw 14A District Court and is charged with one count of killing or torturing an animal. He remains free on a promise to appear in court and did not return a message left at his home Thursday.
According to Milan Police, a woman calling from the American Legion, 44 Wabash Street, reported seeing a man run over a group of Canada geese with a red Jeep Compass that May 14 evening.
Upon arrival, an officer found the Jeep parked haphazardly in a rear parking lot. A baby Canada goose lay dead in the grass about 50 feet behind, the police report says.
As the officer approached the female witness, she told him she had watched the collision from her nearby home.
The woman told police the suspect, who has since been identified as Stowell, drove into a rear parking area of the American Legion and made a wide U-turn as he headed back toward the building. In the process, he "sped up" and drove directly over a group of geese walking in the grass, as they began to scatter, she said.
The woman told police she yelled at Stowell for apparently running them over and he then "flipped her off" as he walked back into the legion building.
The responding officer said Stowell described police intervention as "a great way to waste our tax dollars," but was advised the report would go to the Washtenaw County Prosecutor's Office for review.
Russell Covel, who also lives near the American Legion, said Thursday he was looking out a back window the day of the collision and saw a red vehicle pull into the grassy lot and speed around in a turn. Minutes later, he heard his neighbor yell.
Covel said birds often wander through the area from nearby Ford Lake. He questioned, with the parking lot being empty, what the harm was in allowing birds the time to cross.
"I just thought it was a bizarre thing to happen. It really shouldn't have happened there at all," he said.
Heidi Fenton covers police and courts for AnnArbor.com. Reach her at heidifenton@annarbor.com or 734-623-4673. You also can follow her on Twitter or subscribe to AnnArbor.com's e-mail newsletters.