Posted on
Thu, Mar 10, 2011 : 8:36 p.m.
Man charged in connection with indecent exposure incidents on and near University of Michigan campus
By AnnArbor.com Staff
University of Michigan and Ann Arbor police have arrested a man accused of several indecent exposure and window-peeping incidents on and near campus in 2010, the university said.
Christopher Filipek, 30, of Plymouth, was arrested Wednesday and arraigned Thursday at the Washtenaw County jail on several charges, said University of Michigan spokeswoman Diane Brown.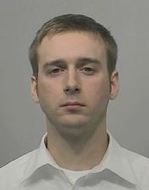 The charges were:
One count of aggravated indecent exposure.
One count of indecent exposure.
Two counts of eavesdropping-trespassing.
Two counts of being a disorderly person-window peeper.
A felony sentencing enhancement provision was added to the indecent exposure count, which on conviction would allow the judge to impose a harsher sentence, up to life in prison, Brown said. Otherwise, the most serious charge, aggravated indecent exposure, a high-court misdemeanor, carries a maximum of two years in prison.
Filipek is charged in connection with indecent exposure incidents from Nov. 11 and 23 in the Oxford Housing area off Geddes Avenue on the U-M campus and March 26 and June 24 near campus. He is accused of lurking outside residential areas, peeping in windows and exposing and touching himself.
He is being held on a $100,000 cash bond, Brown said Thursday.