Posted on
Tue, Dec 20, 2011 : 3:33 p.m.
Man dies after being pinned by excavator at County Farm Park
By Paula Gardner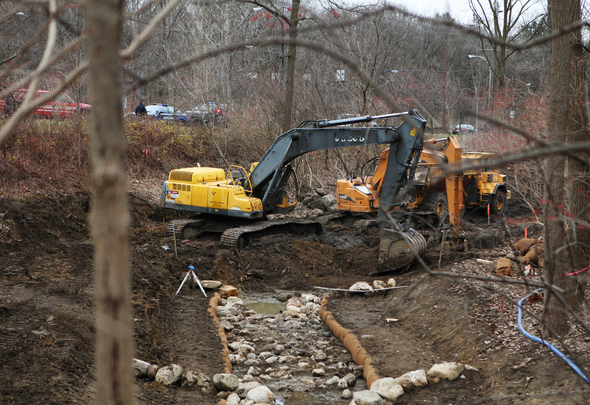 Previous story: Worker critically injured after being pinned under excavator at County Farm Park
The man who was critically injured Tuesday afternoon after being pinned by an excavator has died from his injuries.
The victim, a 57-year-old man from Marshall, Mich., was working with crews from Mead Bros. Excavating on the site of the Malletts Creek restoration project at County Farm Park in Ann Arbor .
Bob Tetens, the Washtenaw County parks and recreation director, said the project is being overseen by the county's water resources commissioner and he didn't personally have any experience with the contractor, but he was briefed on what happened today.
"It appears that one of the workers on the crew went to a remove a rock between the tracks of the excavator and basically the operator did not see him and started to drive the excavator and drove over him," Tetens said shortly after 3 p.m. "I just got word he didn't survive."
Tetens said it's his understanding it was a small company and many of the employees are relatives. He said they're still in shock.
Rescue crews from the Ann Arbor Fire Department reached the scene and immediately began to dig the victim out of the mud under the excavator, said Battalion Chief Kevin Cook.
"He was embedded in the ground about 2 feet from the weight of the machine," Cook said.
The rescue involved firefighters using their hands to dig the man out of the dirt due to the extent of his injuries and the risk to hurting him further in the rescue, Cook said.
Then the rescuers - an initial team of three firefighters then six more who were called to the scene - had to carry the victim through thorny underbrush up the side of the hill, estimated at about 60 degrees.
"It was challenging to get him up," Cook said.
The Washtenaw County Sheriff's Office and the Michigan Occupational Safety and Health Administration are on the scene investigating, Tetens said.
"At this time it appears to be a tragic accident," said sheriff's spokesman Derrick Jackson.
Mead Bros. Excavating, based in Springport, Mich., was awarded a $2.2 million county contract last summer to do the excavation work associated with the Malletts Creek work.
AnnArbor.com reporter Ryan Stanton contributed to this report.