Bicyclist impaled by tree on Lakeland Trail vows to ride again
Posted on Wed, May 23, 2012 : 2:58 p.m.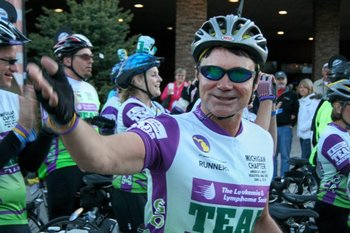 Courtesy photo
Don't count 50-year-old Thomas Mitchell out of the race.
The avid cyclist, diagnosed with lymphoma two years ago, was impaled on a tree last weekend while biking, but he vows to someday again participate in the 100-mile plus charity bike races he's finished in the past.
Thomas Mitchell was on a leisurely bike ride with his 20-year-old daughter, Kaitlyn, near his home in Hamburg Township when he accidently rode into a downed tree that pierced his abdomen.
The two were riding together on Lakeland Trail, between Merrill Road and the bridge over the Huron River, at about 5:50 p.m. Saturday. Thomas Mitchell had already completed his strenuous training earlier that day. Now, it was just dad and daughter on an easy ride.
"It was a very wide path," Kaitlyn recalled.
Her father still rode his mountain bike despite the path being paved. The area is wooded, with the Huron River about 500 feet away. A tree had fallen parallel to the bike trail and was partially sticking out into it.
Thomas Mitchell didn't notice it.
"His glasses were foggy and he didn't see it," Kaitlyn said. She saw the tree and the fact he wasn't turning away from it. She started to say something to her father, but it was too late.
Thomas Mitchell rode right into the tree.

Approximately area where the bicycling accident took place on the Lakeland Trail.
"It impaled him in the lower abdomen," Kaitlyn said. "The top of the tree broke off. Six feet of the tree was sticking out of him. He ripped it out immediately."
Kaitlyn said they both knew he shouldn't have removed the branch, but that he did so out of shock, something she also was experiencing.
"He was lying there on the trail with the bloody branch next to him," she said. "It looked horrible. It was really dramatic and horrifying."
There were two six-inch cuts in the abdomen near his hip and upper thigh. Kaitlyn didn't have a cellphone, but a man jogging toward them stopped to help after seeing the severity of the situation.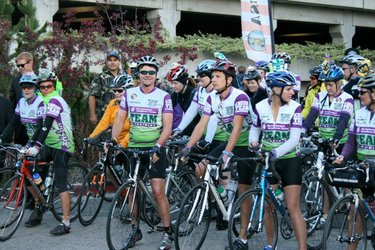 Courtesy photo
The jogger made a compress out of his shirt and applied pressure to the wound while Kaitlyn went to find help. She found some fishermen by the river who let her borrow a cellphone so she could call 911.
Hamburg Township police and fire officials soon arrived, as did an ambulance that transported Thomas to U-M Hospital.
There was no room for Kaitlyn in the ambulance, so she had to ride her bike home and then drive herself to the hospital.
At the hospital, Thomas underwent about five hours of surgery. Doctors removed all the stick debris, as well as about eight inches of his intestines. He also suffered a broken tailbone.
He narrowly missed death.
"The branch missed his main artery by millimeters," Kaitlyn said.
Thomas Mitchell is currently in the hospital being monitored for infections. He's expected to remain there for another eight to 10 days.
Still, he remains optimistic about someday returning to the charity bike rides he's done in the past. At the time of his injury, he was training for the Viva Bike Vegas Grad Fondo, a 118-mile road bike ride through Las Vegas and the surrounding desert in September. He's done a similar race in the Lake Tahoe area.
Thomas, a salesman for a pharmaceutical company, raises about $3,000 every year for the Leukemia and Lymphoma Society's Team in Training.
He was diagnosed with chronic lymphoma about two years and had a lump removed, but is not currently being treated, according to his daughter.
Thomas isn't giving up, though.
"Don't count me out of this ride," he said via email from U-M Hospital."(It) will take a slow recovery, but (I) will be back on the saddle."