Posted on
Mon, Nov 5, 2012 : 2:45 p.m.
Driver killed in I-94 crash remembered as good family man; 2 others remained hospitalized
By Kyle Feldscher
This story has been updated with comments from a spokeswoman for the Desmarais family and family friends.
The 43-year-old Ann Arbor man who was killed on Interstate 94 Saturday while on his way to work was described as a family man whose death left his coworkers in shock.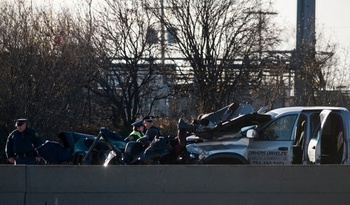 Sean Desmarais was killed Saturday morning when his 2003 Dodge Ram slammed into the back of a 2001 Hyundai Santa Fe on eastbound I-94 west of the South State Street exit. Desmarais was on his way to work at Drivers Driveline Auto Repair Service in Ypsilanti Township.
Mark Driver, the owner of Drivers Driveline Auto Repair Service, said Monday Desmarais was a "good father to his children and a good husband." He said Desmarais never missed a day of work in six years of working at the business and was never late.
As a manager at the business, Desmarais was one of the first people customers saw when they came into the shop, and his death has come as shock to many, Driver said.
"We liked him here. He dealt with the customers and they liked him," he said. "A lot of them are coming in here today and are almost breaking down in tears when I tell them what happened."
Desmarais was pronounced dead at 8 a.m. Saturday at the scene of the crash at eastbound I-94 west of the South State Street exit. Police said the airbags in the truck did not deploy and he was not wearing a seatbelt.
He leaves behind his wife, Dawn, and two children, Bobby, 20, and Sean Jr., who turned 20 on Saturday. Tonya Driver, speaking on behalf of the Desmarais family, said Desmarais was extremely devoted to his family.
"He was a wonderful, humble person, the kindest gentleman who would give the shirt off his back and was so loyal," she said.
Melissa Lowell, owner of Lowell's Towing in Ypsilanti, said Desmarais used to drive the tow truck in between Drivers and her shop. She said Desmarais was always willing to volunteer to work so her family could have more time together.
Desmarais would put on a fireworks display at her house when their families would have get togethers, she said.
"His family was the world to him," Lowell said. "They were put up on a pedestal higher than anything could possibly be. He would give his right arm for them. He worked for us, but he was family. He wasn't blood but he was the nicest person ever, you wanted him to be your family member."
Lowell recalled when Desmarais got sick with bronchitis and, not long after, she came down with the same affliction. Lowell said she was touched when he was so upset he might have been the one to pass the sickness on to her and her family.
"He was very heartfelt, a perfect gentleman," she said.
When the crash occurred, Michigan Department of Transportation crews had closed the freeway to replace a sign over I-94 near US-23. The freeway had been closed at 7 a.m. and was only scheduled to be closed for 15 to 20 minutes, but work on the sign lasted longer than anticipated. MDOT officials said warnings about the closure were posted, but there were fewer signs than would have accompanied a longer-term freeway closure.
Kari Arend, spokeswoman for the Michigan Department of Transportation, said a single lane had been closed on I-94 near US-23 from midnight until 7 a.m. Saturday. The entire freeway was scheduled to be closed for a short period of time at some point during that seven-hour period, but there was no set time for the closure to occur.
Arend said MDOT is investigating why the entire freeway closure occurred at 7 a.m. instead of earlier in the morning when there was likely less traffic.
"We're still looking into that and figuring things out on our end," she said.
"When we do those (closures), it's hard to pinpoint when the short-term closures will be," she added. "We just know they'll happen sometime during this period."
When the Dodge Ram truck Desmarais was driving hit the Santa Fe, the impact pushed the Hyundai into a semi truck. Nicholas Vandoornevelt, of Cottage Grove, Minn., and Spencer Yon, of Duluth, Minn., were in the Santa Fe. The 18-year-olds are both still being treated at the University of Michigan Hospital after suffering serious injuries.
Yon remains in critical condition Monday afternoon, and Vandoornevelt is in good condition, according to hospital officials. The two men had to be extricated from the Santa Fe on I-94 Saturday.
Thomas Smith, the driver of the semi truck, suffered minor injuries and was treated at the scene of the crash.
Michigan State Police Sgt. Mark Thompson said there was little confusion on I-94 before the crash occurred — vehicles were stopped and the backup was lengthy, but he was not aware of any cars attempting to get off the freeway by driving against traffic or turning around in the median. When asked if Desmarais had attempted to stop the Ram before hitting the Santa Fe, Thompson said police wouldn't release that information.
"We wouldn't really detail that because he would be the at-fault driver," Thompson said. "He is deceased, so there is nothing for us to seek criminal prosecution against."
Funeral services for Desmarais will be held on Thursday at Brightmore Church, 40800 W. 13 Mile Road in Novi. Visitation will be held at 10 a.m., the funeral service will be held at 11 a.m. and will be followed by a luncheon.
The Desmarais family asks anyone interested in sending flowers instead send donations to Drivers Driveline, 896 N. Harris Road, Ypsilanti Township, 48198. All donations collected will be sent to the family.
Kyle Feldscher covers cops and courts for AnnArbor.com. He can be reached at kylefeldscher@annarbor.com or you can follow him on Twitter.