Posted on
Mon, Feb 4, 2013 : 5 p.m.
Man accused of blinding Ypsilanti man with pellet gun pleads no contest to assault charge
By Kody Klein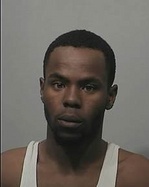 Courtesy of the WCSO
The 23-year-old Ypsilanti man accused of shooting a 53-year-old man in the eye with a pellet gun last August pleaded no contest to an assault charge when he took a plea deal Monday in the Washtenaw County Trial Court.
Antonio Frank Thomas pleaded no contest to a charge of assault with intent to do great bodily harm less than murder in exchange for the dismissal of charges including armed robbery, assault with intent to rob while armed, assault with intent to murder and assault with a dangerous weapon.
These charges will be dismissed at the time of sentencing on March 4. The maximum sentencing for assault with intent to do great bodily harm is 10 years in prison.
Thomas's attorney, Michael J. Vincent, said the no contest plea was submitted to avoid potential civil liability.
According to police, Thomas and other men attacked a 53-year-old Ypsilanti man on Aug. 12. Police said Thomas and the other men beat the alleged victim, breaking his jaw and shooting him in the eye with a pellet gun causing permanent blindness. The attackers then went through the man's pockets, police said.
According to prosecutors, Thomas and the alleged victim knew each other for years before the incident.
Thomas remains in the Washtenaw County Jail on a $150,000 bond.