Bicyclist suffers minor injuries after colliding with deer
Posted on Thu, Jun 21, 2012 : 4:14 p.m.
Bicyclists have enough to worry about when going down hills at high rates of speed.
Cars, sticks in the road, tight turns and many other factors can turn a leisurely bike ride into dangerous proposition at times.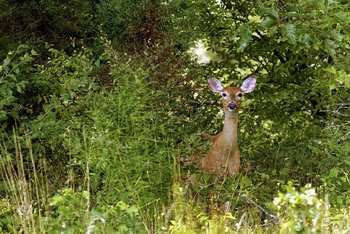 One man in Ann Arbor Township dealt with a whole different animal Thursday afternoon.
A man was sent to the University of Michigan Hospital with minor injuries after he and his bike collided with a deer at about 2 p.m. Thursday near the intersection of Newport Road and Lowell Road, according to Ann Arbor Township Fire Department Captain Doug Eder.
Eder said the man was heading down a hill on Newport Road when the deer simply crossed in front of him, giving him nowhere else to go.
As bizarre as the accident sounds, Eder said it's not the first time he's seen it happen.
"I bet you (it happens) a couple times a year throughout the county, maybe more in the rural areas," Eder said.
The man was in stable condition when officers arrived, and Huron Valley Ambulance personnel transported him to University of Michigan Hospital, spokeswoman Joyce Williams said.
Unlike Eder, Williams was much more caught off-guard by the bike-versus-deer report.
She said it took a couple of moments for the report to really register as reality.
"It's definitely a first, for me anyway," she said.
Williams said she didn't know what condition the deer was in. There were no injured deer visible near the intersection Thursday afternoon.