Posted on
Mon, Apr 15, 2013 : 2:44 p.m.
Police: Tire blowout led to Sunday I-94 crash
By Kyle Feldscher
A 56-year-old man was taken to the hospital Sunday with non-life-threatening injuries after a tire from a pickup truck flew into the windshield of the vehicle he was driving.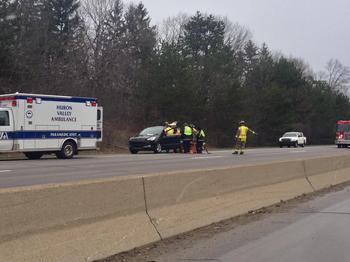 Daniel Brenner | AnnArbor.com
The tire flew into the 2013 Ford Escape, which was then hit by a 2003 Jeep, Michigan State Police Sgt. Mark Thompson said Monday. The Sunday afternoon crash then caused a traffic backup that spread for miles on both sides of Interstate 94.
Thompson said an eastbound pickup truck lost a tire that flew across the median and hit the Escape driven by a 56-year-old man about 12:35 p.m. Sunday near Stone School Road. It's unknown what caused the pickup truck to lose its tire, but it appeared to be a simple blowout, Thompson said.
The tire from the truck hit the man's windshield and the woman driving the Jeep was unable to avoid hitting the Escape. Thompson said the investigation is ongoing but no one is deemed at-fault yet.
"We don't have anybody at-fault because of the unique nature of the crash with the tire coming across the median," Thompson said.
Thompson's report on the man being taken to the hospital contradicts the statement by a witness who spoke to AnnArbor.com Sunday. Ally Norris told AnnArbor.com a woman was driving the vehicle struck by the tire.
Thompson did not have any information regarding an extrication at the scene of the crash. Ann Arbor Fire Department Battalion Chief Steven Lowe said one driver was extricated from a vehicle involved in the crash.
Ann Arbor firefighters, Pittsfield Township firefighters and Huron Valley Ambulance personnel all responded to the crash. Onlookers reported six fire rucks, police cruisers and a pair of ambulances on the crash scene.
The crash caused an hours-long back up in both direction and Norris said vehicles were only able to pass the crash on the westbound shoulder.
Thompson said the full report on the crash was not yet completed Monday afternoon.
Kyle Feldscher covers cops and courts for AnnArbor.com. He can be reached at kylefeldscher@annarbor.com or you can follow him on Twitter.