Posted on
Fri, Nov 30, 2012 : 10:53 a.m.
Man tries to lure 10-year-old boy into truck with candy
By Cindy Heflin
A man tried to lure a 10-year-old boy waiting at a school bus stop into his truck Thursday morning in Salem Township, Michigan State Police said.
The child was waiting near Six Mile and Currie Road about 8:30 a.m. when the man drove up and tried to convince the boy to get in the truck with an offer of candy, state police said.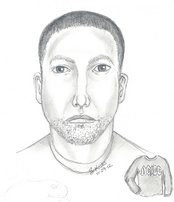 The boy gave police a good description of the man and his truck, but it did not have a license plate attached, police said. A state police forensic artist was able to create a drawing of the suspect from the boy's description.
The suspect was described as white, about 25 to 35 years old. He had a goatee and black short hair with no bangs. He had tattoos on both arms from the elbow down. He also had number tattoos on his fingers of his right hand. The boy recalled the numbers 1, 2 and 4. Police think he may have had each finger numbered from 1 to 5.
He was wearing a black AC/DC shirt with sleeves pulled up to the elbows.
The truck was believed to be a black, standard-size pickup with tinted side and rear windows. There was red lettering on the driver's side rear quarter panel, behind the rear wheel. It had wood planks in the bed of the truck.
Anyone with information is asked to contact the Brighton post of the Michigan State Police at 810-227-1051 or the state police operations desk at 517-241-8000.