Posted on
Fri, Aug 17, 2012 : 5:59 a.m.
Man who caused outburst in courtroom faces competency examination
By John Counts
The man who caused an uproar that shocked an entire courtroom last week will return to the Washtenaw County Trial Court Friday for a competency examination.
Donald Roberts, 65, attempted to knock over a lectern before attacking attorney John Vella in Judge David Swartz's court Aug. 9.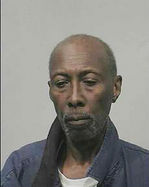 Courtesy of the Washtenaw County Sheriff's Office
Roberts had been representing himself in the matter. Vella, who was a few feet away at the defense table, was ordered as his stand-by counsel by the judge in the matter.
Before the violent outburst, Roberts complained about the state of the law library at the jail and said he thought Swartz should be disqualified. He also told the court he had no need for an attorney.
Assistant Washtenaw County Prosecutor Brenda Taylor then told the court that a doctor at the Center for Forensic Psychiatry in Ypsilanti had recently found Roberts incompetent to stand trial. Despite that, Roberts still has the right to a hearing in the matter.
After deputies from the Washtenaw County Sheriff's Office brought down Roberts and hauled him out of the court, Swartz appointed Vella as counsel for Friday's competency hearing.
Roberts is accused of unarmed robbery, refusing fingerprinting and assault with intent to rob while unarmed over an incident that occurred at the Blake Transit Center in Ann Arbor on July 2, 2011. Lt. Renee Bush of the Ann Arbor Police Department said Roberts was highly intoxicated and was being taken to a health center from the bus stop after complaining of being assaulted after trying to buy marijuana.
Police also said a male victim described a different scenario. Bush said the man told police he was downtown near South Fourth Avenue and East William Street when Roberts assaulted him and took money.
As of last week, Roberts was being held at the county jail on $10,000 cash bond, according to jail records. There was no current address listed for Roberts in court records.
AnnArbor.com reporter Kyle Feldscher contributed to this report.
John Counts covers cops and courts for AnnArbor.com. He can be reached at johncounts@annarbor.com or you can follow him on Twitter.