Posted on
Mon, Sep 26, 2011 : 7:23 p.m.
Man who set up the robbery and murder of his friend sentenced to up to 32 years in prison
By Kyle Feldscher
The final suspect in the killing of Ypsilanti Township resident Jason Hoover will spend up to 32 additional years in prison after being sentenced Monday.
James Lester, 22, set up the drug deal that ended with Hoover being shot and killed on Nov. 6 in his Schooner Cove apartment. Washtenaw Trial Court Judge Melinda Morris sentenced Lester to between 16 years and 30 years in prison each for 2 armed robbery charges and a second-degree murder charge.
Those sentences will be served concurrently, but consecutively to the 2-year sentence for a felony firearms charge that Morris also handed down Monday.
Lester was a friend of Hoover, even going so far as to stay with him, his fiance and his 1-year-old daughter in the weeks before the murder. Alice Carroll — Hoover's mother who spoke at the sentencing hearings of the 2 brothers who were also convicted in connection with Hoover's death, Keywone Walker and Willie Walker — told Lester she could never forgive him for betraying her son.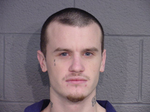 Courtesy Michigan Department of Corrections
"I will personally be your enemy for the rest of your life," she said. "I don't believe in hate, but I do hate you."
Lester set up the drug deal with Hoover and accompanied Willie Walker into Hoover's apartment, where they intended to steal cash and marijuana from Hoover. During the course of the deal, Willie Walker shot Hoover in the chest and killed him.
Keywone Walker then drove Lester and Willie Walker to the Village Grove Apartments in Ypsilanti Township, where they divided up the marijuana and money taken from Hoover's apartment. Police responded to a 911 call at 8:23 p.m. Nov. 6 at Hoover's apartment, where they found him dead from a single gunshot wound to the chest.
In one of the more shocking moments during Monday's court hearing, Carroll called Lester out for adding another teardrop tattoo to his cheek — a symbol she believed to represent the murder of her son. She chastised Lester for arranging the robbery of a man who had taken him in just a few weeks before.
"You alone chose Jason to be robbed. The other people didn't know Jason, you were the one who was supposed to be his friend," Carroll said, telling Lester that she will be at all of his parole hearings to make sure he stays in prison for as long as possible.
Lester's sentence will be served consecutively to the one he is currently serving, which is between 17 months and 5 years in prison for unlawfully driving away from police in an automobile. He was sentenced in that case in February 2010, meaning he could be in prison until 2047.
His sentenced was positioned between the Walker brothers by Morris. Willie Walker is serving between 35 and 50 years for the murder charge and a felony firearm charge and Keywone Walker is serving between 17 years and 9 months and 30 years in prison for a count of armed robbery and a count of conspiracy to commit armed robbery.
Lester turned toward Hoover's family in the courtroom when addressing the court and apologized for his role in the crime. He maintained he did not know Willie Walker was carrying a gun on him when they went into Hoover's apartment and never meant for Hoover to be harmed, let alone killed.
"I let my addictions get the best of me and now I have to pay for this for the rest of my life," he said.
Ronald Gold, Lester's attorney, said Lester did mean to rob Hoover, but emphasized that his client was not aware Willie Walker had a weapon on him.
"He was going to rob someone who sold dope. He was going to grab the dope and run out of the door," Gold said.
However, none of that mattered to Carroll.
Whether Lester knew Willie Walker had a gun is irrelevant in her eyes, she said. All that mattered to her was one of her son's friends had consciously made the decision to rob him and, because of that decision, her son is now dead, she said.
"To me, Jason's blood was on your hands," Carroll said.
Kyle Feldscher covers cops and courts for AnnArbor.com. He can be reached at kylefeldscher@annarbor.com or you can follow him on Twitter.