Posted on
Wed, Jul 24, 2013 : 11:10 a.m.
Manchester man accused of letting 9-year-old behind wheel of truck in 'bizarre' crash
By John Counts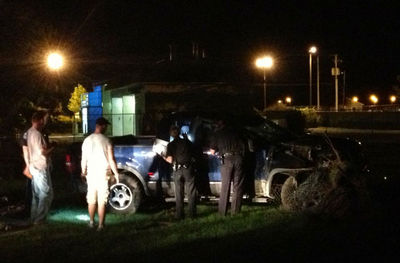 Roberto Acosta | MLive.com
A 27-year-old Manchester man could face charges after police said a 9-year-old boy to sit on his lap behind the wheel of a pick-up truck and causing a roll-over crash in Davison Township near Flint last week, MLive reported.
Police said the "bizarre" crash occurred around 11:50 p.m. Friday in the 10000 block of Lapeer Road near M-15. The Ford F-150 was found resting on a 20-foot-tall pine tree after traveling through a yard, striking a ditch and knocking down a fence.
The Manchester man and other adult occupants of the truck — a 25-year-old Davison Township man, 28-year-old Davison Township woman and 24-year-old Davison Township woman — had been drinking alcohol at a backyard bonfire across the street prior to the crash, police said.
The 9-year-old boy was allowed to sit on the Manchester man's lap in the driver's seat when they started to leave, police said.
"The 9-year-old boy (decided) to mash the accelerator down to the floor," Davison Township police Chief Rick Freeman told MLive.
The truck careened through the yard, across the street, into a ditch and through a neighbor's yard before coming to rest on the tree, MLive reported.
When authorities arrived, they found the rolled-over truck, which had blood stains in it, but no occupants. Police said the group went back across the street to the bonfire for about 30 minutes before calling paramedics because the 24-year-old woman had a leg injury that was bleeding uncontrollably.
Read the MLive story.
John Counts covers cops and courts for AnnArbor.com. He can be reached at johncounts@annarbor.com or you can follow him on Twitter.