Posted on
Wed, Mar 14, 2012 : 1:05 p.m.
March Hoops to Beat Blindness: Dad raising funds for Kellogg Eye Center after son's cancer ordeal
By Janet Miller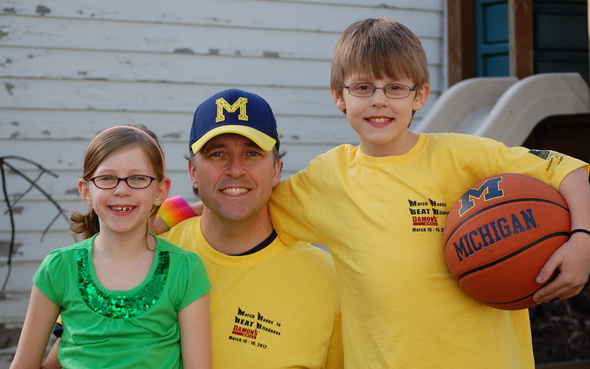 Janet Miller | For AnnArbor.com
Brendan Hepner
was just 9 months old when his parents noticed that his two eyes looked different from one another in photographs: One had the red eye that comes with using a camera flash. But the other had a grayish/white color. When they looked at Brendan up close, they saw the same off color in one eye.
When they took Brendan to his doctor, the infant was immediately referred to the University of Michigan Kellogg Eye Center, where he was diagnosed with retinoblastoma, a rare cancerous tumor on the retina. "I'd never even heard of it," said Brendan's father, Myron Hepner.
Brendan's eye was removed and, because it had been caught early, the cancer didn't spread. Brendan, now 9 years old, is cancer-free. "The people at Kellogg were fantastic," Hepner said. "They treated us so well and they were wonderful to Brendan."
Three years after the surgery, Hepner was thinking how grateful he was to the Kellogg Center for saving his son's life. Brendan had been lucky: If it had not been caught when it was, it could have quickly spread to the brain.
Hepner also was in the middle of an annual tradition where he gathered with a small group of friends at Damon's Grill on Boardwalk Drive south of Ann Arbor to turn March Madness into a March marathon, watching every game of the first round of the NCAA men's college basketball tournament. That's 32 games and 24 hours of viewing divided over two days.
Hepner decided to combine the two: Finding a way to honor the Kellogg Eye Center and celebrate the college basketball tournament.
In 2007, Hepner started March Hoops to Beat Blindness, a fundraiser that has raised more than $28,000 for a variety of programs and projects at Kellogg Eye Center. This year's fundraiser will be held Thursday and Friday. It's also gives other Kellogg Eye Center patients and their families an avenue to donate, he said.
"In the six years I've been doing this, I've had so many people come up to me to tell me about their equally wonderful experience at Kellogg," Hepner said. "They had the same really great service, but that also didn't know how to give back. No one feels comfortable walking in and giving the doctor or the receptionist a check. This gives people an avenue to support Kellogg."
Hoops to Bear Blindness raises more than money, said Aimee Bergquist, marketing communications specialist at Kellogg. It raises awareness and good will, she said. Each year, Hepner selects a different area within Kellogg to support with the fundraiser, from Graves eye disease to the Children's Eye Clinic. This year, the fundraiser will support research around vision loss as a complication of diabetes. The Delta Gamma sorority at U-M also has joined in the fundraiser.
Each year, Hepner takes two vacation days from his job IT job at U-M. There is no basketball burnout, he said. "To me, it's two really great days of sport. Having it as a fundraiser energies me."
There are three ways to donate: Go to www.BeatBlindness.com. Eat at Damon's Thursday or Friday, where 20 percent of receipts will go toward the fundraiser. Or purchase a paper basketball (for $1, $5 or $10) at Damon's, and it will be posted at the restaurant.
Brendan, a basketball fan who divides his allegiances between U-M and Duke, thinks the fundraiser is a fine idea. "It's like being fair," he said. "When someone does something nice for you, you should do something nice back."