Posted on
Wed, Apr 20, 2011 : 5:57 a.m.
Marijuana advocates call for firing of Ann Arbor city attorney during protest in front of city hall
By Ryan J. Stanton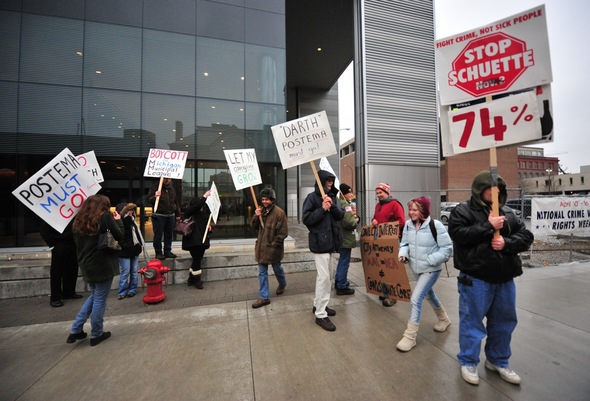 Ryan J. Stanton | AnnArbor.com
More than a dozen medical marijuana advocates marched in front of Ann Arbor's city hall Tuesday night, decrying what they consider an attack on the rights of patients and caregivers.
"Let my people grow!" chanted Chuck Ream, a dispensary owner and one of the leading voices in the medical marijuana movement in Ann Arbor. "Caregivers help patients!"
As Ream made his way up and down Fifth Avenue shortly before the start of Tuesday's Ann Arbor City Council meeting, he carried a sign that read, "Darth Postema must go!"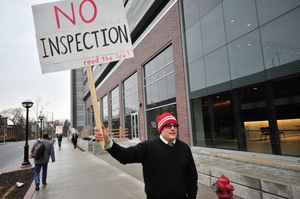 Ryan J. Stanton | AnnArbor.com
That's the nickname he's given to City Attorney Stephen Postema, whom Ream thinks has inserted overreaching language into the city's proposed medical marijuana ordinances.
Later during the meeting, Postema received praise from council members for his work on crafting the medical marijuana regulations awaiting their approval.
The council was expected to give final approval of new licensing and zoning ordinances on Tuesday. But citing concerns that too many changes were being proposed late in the game, council members decided to postpone consideration until May 2.
"It's been a long process for the council," Postema said of the ordinances that city officials first began working on last summer and have put off adopting multiple times now.
"But if you look around the state, most cities are simply having moratoriums for a long period of time or not doing anything," Postema said. "So the council is looking hard at issues that are appropriate. We're trying to craft an ordinance and state law doesn't deal with a lot of things. It doesn't deal with dispensaries. There's nothing in state law about dispensaries."
Ream said it appears the city attorney's office is trying to require caregivers to apply to receive a license, pay an annual fee and agree to inspections to be able to grow up to 72 plants in their homes. He said that goes above and beyond regulations outlined in state law.
"I'm disappointed that the Ann Arbor City Council can't see through this for the plot that it is," Ream said. "We have been betrayed and it's really the city attorney, not the council, but the council is beginning to go along with the city attorney's ideas."
Ream said his coalition of cannabis supporters won't rest until the city's proposed ordinances are free of any language resembling inspections or record-keeping requirements.
Council Member Sabra Briere, D-1st Ward, said the City Council has important decisions to ponder over the next couple of weeks, including those mentioned by Ream.
Ream worries the licensing and inspection rules will keep caregivers from growing marijuana to help patients because they'll be afraid of having their identities disclosed.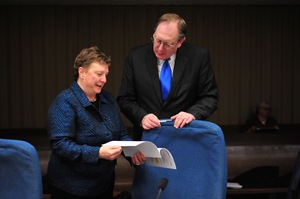 Ryan J. Stanton | AnnArbor.com
"If you grow enough to try to help people, you're going to have to get a zoning compliance permit and inspections, fees," he said. "No one will do this, no one wants inspectors in their home."
During two public hearings, council members heard several opinions on the subject of medical marijuana. Council Member Carsten Hohnke, D-5th Ward, responded to a speaker who seemed to question the medical benefits of cannabis.
"Having spent the early part of my professional life in neuroscience research, I've enjoyed the opportunity to examine the literature," Hohnke said. "From my perspective, the medical benefits of marijuana for some pretty serious and painful diseases are exceptionally well established."
Jamie Lowell, a Lapeer County resident and co-founder of the 3rd Coast Compassion Center in Ypsilanti, carried a sign outside reading, "No inspection. Read the law!"
"We don't need any additional restrictions or prohibitions on what the law already allows people to do, and we think that allows people to participate in this act in their own homes without additional inspections and things like that," said Lowell.
Harry Cayce, co-owner of the Peoples Choice Alternative Medicine compassion club across from the Big House, carried a sign that read, "Go blue! Grow green!" He believes his business, 2,500 members strong, was the second marijuana clinic to open in Ann Arbor.
"We're out here just to try to protect the patients' rights to grow their own medicine," he said. "To put more controls on anybody who wants medicine, over and above what the state does, I think is wrong. To be inspected just because you're growing medicine doesn't make sense."
Ryan J. Stanton covers government and politics for AnnArbor.com. Reach him at ryanstanton@annarbor.com or 734-623-2529. You also can follow him on Twitter or subscribe to AnnArbor.com's e-mail newsletters.