Posted on
Wed, Sep 19, 2012 : 9:32 a.m.
Mary Sue Coleman: Ann Arbor is the pinnacle of college towns
By Cindy Heflin
University of Michigan President Mary Sue Coleman, writing on the Michigan Economic Development Corp. blog, calls Ann Arbor the "pinnacle" of college towns in which she's lived.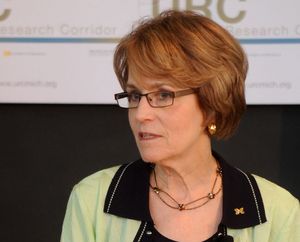 Coleman speaks of the way the university, with its campus in the heart of town, is integrated into the community. She mentions restaurants offering cuisines from all over the world, of parks and football, and of the Ann Arbor Art Fairs.
And she tells of a visit from a former Polish president who was impressed by the sight of 110,000 fans at a Michigan football game and by performances of the Kirov Orchestra and the Royal Shakespeare Company.
Coleman, who is paid an annual salary of nearly $586,000, has been in Ann Arbor since 2002, when she became president of the university of more than 42,000 students.
She concludes the post with high praise for the city:
"There's really no place like Ann Arbor. Life-changing research, a distinctive arts environment, world-class health care, and a diverse range of perspectives and people combine to create an unparalleled community.
"I can't think of a better way, or place, to live."
Cindy Heflin is associate news director at AnnArbor.com. Contact her at 734-623-2572 or cindyheflin@annarbor.com or follow her on Twitter.