Posted on
Wed, Mar 14, 2012 : 2:10 p.m.
Mary Sue Coleman says Gov. Snyder's formula for higher education treats U-M like 'a failing institution'
By Kellie Woodhouse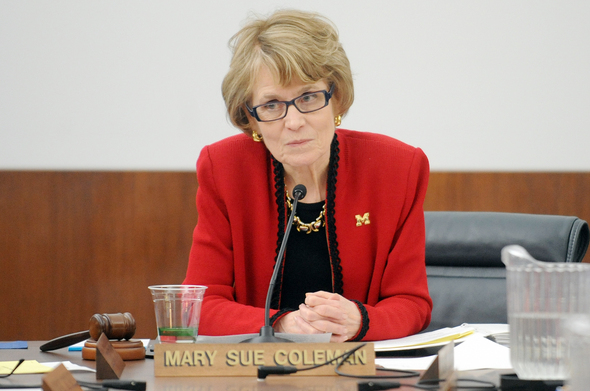 Melanie Maxwell I AnnArbor.com
University of Michigan
President
Mary Sue Coleman
Wednesday voiced concerns over the formula
Gov. Rick Snyder
plans to use to distribute the $36.2 million increase he's budgeted for higher education this year.
Coleman told the Michigan House Appropriation Higher Education Subcommittee that Snyder's proposed 3 percent raise in funding "represents what we hope is a turning point for higher education in our state and the past decade of reductions" but is not being distributed properly.
Snyder released his $48.2 billion 2012-13 fiscal budget proposal in February.
The proposal grants universities $1.4 billion —up from $1.36 billion in 2011-2012— and distributes the increase to Michigan's 15 public universities using four newly developed metrics: growth in graduation rates, the number of degrees awarded in critical skill areas, the number of Pell Grants awarded to enrolled students and tuition restraint.
Under this formula, increases to individual universities vary from 0.9 percent to 7.6 percent.
U-M's Ann Arbor campus is set to receive a 1.4 percent increase.
Coleman said that under Snyder's proposed formula "you could erroneously come to the conclusion that the university is a failing institution."
The U-M Board of Regents, Coleman and her administrators have been outspoken critics of Snyder's move toward formula funding.
"Here's my concern: The current metrics proposed in the governor's recommendation, they pit the very different 15 public universities against each other," Coleman said Wednesday. In the coming weeks, each of Michigan's public university presidents is set to testify about the budget before the subcommittee.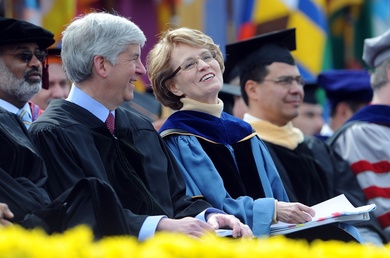 Melanie Maxwell | AnnArbor.com
She noted that U-M's graduation rate —in 2010 the school's six-year graduation rate was 89.7 percent and its four-year rate was 72 percent— is already one of the top in nation and difficult to improve. The average six-year graduation rate in 2010 was 56 percent.
Coleman also took issue with wasn't included in the metrics, including maintaining positive performance indicators (such as graduation rates), the quality of a school's research enterprise, the quality of graduate programs and the number of students who get jobs shortly after graduating.
U-M Director of Government Relations Cynthia Wilbanks told AnnArbor.com recently that while the governor "is trying to incentivize certain outcomes," his proposed formula fails to encourage graduate education and research, which she said can "stimulate and help to support the economic diversification of the state."
Snyder's formula includes a 4 percent cap on tuition increases, which Coleman criticized. Last year, U-M rose undergraduate tuition 6.7 percent and, according to U-M Provost Philip Hanlon, the university plans to increase tuition again in 2012-2013, although that raise is projected to be less than 6.7 percent.
"It is very important to keep that tuition decision at the appropriate level: individual boards," Coleman said, adding that she believes boards are "very responsible" when considering tuition increases.
In additional to tuition restraint and degree completions, Snyder's projected formula also considers the amount of Pell Grants awarded to undergraduates each year.
At 15 percent in 2010, U-M has the lowest percentage of students receiving Pell Grants of any public university in the state. At Wayne State University and Michigan State University, other state research universities, 43.5 percent and 23.2 percent of students received Pell Grants in 2010, respectively.
Wayne State, U-M and Michigan State are budgeted to receive the smallest percentages of the $36.2 million increase under Snyder's plan.
Under Snyder's formula, U-M Dearborn is set to receive a 2.7 percent increase. In 2010, Dearborn had a 51.8 percent graduation rate and 36.9 percent of students received Pell Grants. U-M Flint is projected to receive a 3.2 percent increase. In 2010, 40.4 percent of U-M Flint students received Pell Grants. The school had a 38.8 percent six-year graduation rate.
Taken together, Michigan's 15 public universities had a 60.7 percent graduation rate in 2010, ranking 14th in the U.S.
Kellie Woodhouse covers higher education for AnnArbor.com. Reach her at kelliewoodhouse@annarbor.com or 734-623-4602 and follow her on twitter.