Posted on
Tue, Sep 4, 2012 : 4:22 p.m.
Mary Sue Coleman, U-M delegation plan trip to Brazil
By Cindy Heflin
University of Michigan President Mary Sue Coleman and several researchers will travel to Brazil later this month, the university has announced.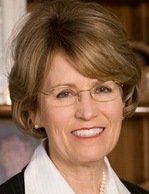 The university hopes to enhance and spotlight already established collaborations with institutions in Brazil as well as foster new ones.
The U-M group will have meetings and working sessions in four cities, including Sao Paulo, Campinas, Rio de Janeiro and Brasilia, the capital, U-M said. Coleman will host meetings in Sao Paolo and Rio de Janeiro with U-M alumni living in Brazil.
The delegation will include six faculty members and Mark Tessler, the university's vice provost for international affairs, the Michigan Daily reported.
Education and research are growing fields in Brazil, the university said, noting more than a quarter of all scientific papers by written by Brazilians have foreign co-authors.
The delegation will make the trip Sept. 22-28.