Posted on
Fri, Mar 15, 2013 : 6:44 p.m.
Match Day 2013 for U-M medical school students: One-third will stay in Michigan
By Amy Biolchini
At the mercy of a computer algorithm used to determine residency placements, 161 University of Michigan Medical School students' emotions and nerves were torqued to the maximum Friday as they waited for noon.
At noon, they were handed a white envelope.
Inside that envelope lay the answer for which the students had been waiting for months: The placement for their residency, where they would spend the next chapter of their lives as doctors.
It's practice nationally to announce residency appointments on "Match Day," at the same time on the same day.
At U-M, it's made into a celebration of the students' accomplishments over their time at the school. If they choose, the students can announce their placements on stage during the event.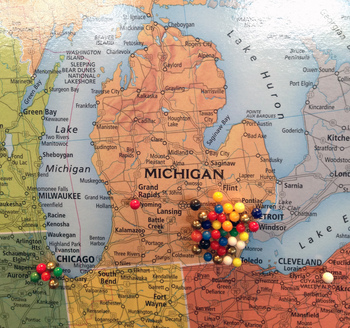 Amy Biolchini | AnnArbor.com
"The stress and the chaos is very much present," said
Adam Gadzinksi
, a graduating U-M medical student. "It's definitely a little distracting as you try to do other things."
Beaming and electrified with excitement, Andrea Knittel, 30, of Ferndale read off her placement in front of a crowd of her fellow graduates Friday afternoon at a conference room in Building 18 of the North Campus Research Complex.
It was her top choice: The University of California - San Francisco for a specialty in OB/GYN.
Knittel has been studying at U-M for 12 years. Starting as an undergraduate student, the top programs and experience kept her at U-M through her advanced studies, Knittel said.
She's among the 28 students in her graduating class to leave U-M with two degrees: Knittel completed a Ph.D. program in public health in addition to medical school.
The computerized system tabulates the placements based on a list of preferred candidates each program submits and on a ranking each student submits on where they want to go out of the institutions where they had interviews. Each residency program at a hospital has a fixed number of slots that they need to fill each year.
Dr. Raj Mangrulkar, associate dean for Medical Student Education at U-M, said the algorithm puts students in the best place for them based on the program that wants them.
Most students consider about 10 or more programs in their search, Mangrulkar said.
U-M's medical students had a 96.3 percent success rate of being matched to a residency program that they applied to - which is about 3 percent above the national average.
Amy Biolchini | AnnArbor.com
Gadzinski, 26, now lives in Ann Arbor after growing up in Ludington. After pursuing his undergraduate education at Notre Dame University, he said he "came home" for medical school at U-M.
Gadzinski was able to nab his top choice for a residency program after going on 17 interviews across the country. He'll spend six years at the University of California - San Francisco in the urology program.
"I was looking for a relatively large program that had a lot of patient volume that was centered in a more urban center," Gadzinski said.
For urology programs, placements are announced in January - which Gadzinski said garnered some jealousy from his peers at the medical school.
"While the way it's done now is anxiety-provoking, it's actually pretty straightforward," Gadzinski said of the computer algorithm.
Of the 161 students graduating from U-M's program, 47 will stay at U-M for residency. That figure accounts for the vast majority of the one-third of U-M medical school graduates who will be staying in the state for their residency programs.
Beyond Michigan, U-M medical school students have clustered in Seattle, San Francisco, Los Angeles, St. Louis, Chicago, New York, Washington D.C., Philadelphia and Nashville for their residencies.
Where medical students do their residency is often where they end up practicing, Mangrulkar said.
More than 40 percent of the graduating class will pursue primary care.
Other leading medical schools in Michigan had slightly higher success rates for student placement.
Wayne State University's medical school students had a 98.5 percent success rate in being matched to a residency program that they applied to.
Out of its graduating class of 274 students, about 52.3 percent will stay in Michigan.
At Michigan State University, 137 students - or 97.2 percent - of its graduating class secured a residency placement.
Of those that placed, 29.9 percent will be staying in Michigan. Half of those students are pursuing primary care specialties.
As more universities in Michigan are developing medical schools, the increased number of graduates in the state could make it more competitive for students to secure a slot in a residency program in Michigan, Mangrulkar said.
The Medicare program funds the residency slots. As more medical schools graduate students in Michigan, the number of slots available will stay the same, Mangrulkar said.
"The types of fields getting competitive are more and more general," Mangrulkar said.
Amy Biolchini covers Washtenaw County, health and environmental issues for AnnArbor.com. Reach her at (734) 623-2552, amybiolchini@annarbor.com or on Twitter.