Posted on
Mon, Jun 18, 2012 : 1:30 p.m.
Mayor says Ann Arbor Marathon 'far too disruptive' and needs changes to continue
By Pete Cunningham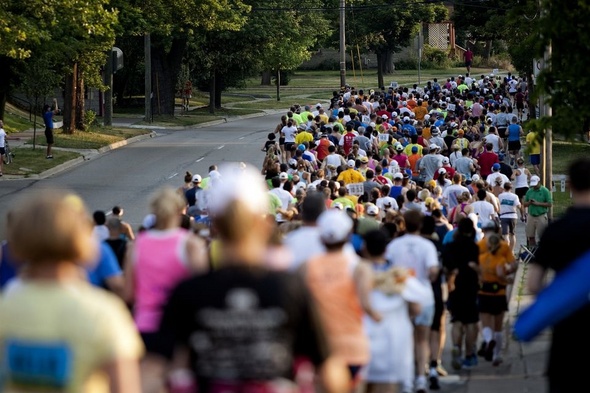 Jeffrey Smith | AnnArbor.com
The first
Ann Arbor Marathon
took place on Sunday and if there's going to be a second one, changes will need to be made.
Mayor John Hieftje said the disruption to local traffic was far too great and changes will need to be made for the event to continue in the future.
"I thought it was far too disruptive and it needs to be better, and I'm speaking solely to traffic and how people getting in and out of neighborhoods were affected," Hieftje said.
Hieftje pointed out that event organizers followed all the protocol in terms of notifying residents, churches and businesses affected by traffic closures, but it was clear to him on Sunday that it wasn't enough. He said on race day he saw far too many residents and business owners adversely affected and unaware of what was going on.
"There were just locations that people couldn't reach and there needs to be a way for people to get where they go," Hieftje said. "It's the first time, so we expect everything would get better - and it needs to be better.
"They worked with the city and we have experienced people (dealing with big events), so we'd expect everything will get better."
Denise Murray
, marketing director at Briarwood Mall, said she thought the traffic brought in by race participants outweighed any negative effects traffic delays may have caused.
"When you can attract people from 44 different states to Ann Arbor, a little inconvenience can go a long way," Murray said. "We anticipated that there would be delays coming to work, and worked vigorously with retailers and employees to prepare and tried to get the word out there in social media to let customers know."
Champions for Charity put on the event that saw roughly 3,300 people from 44 states and six different countries participate in the various races. For every participant, $6 was donated to the Ann Arbor Public Schools Education Foundation, and much more money was raised for other education-based non-profits.
Champions for Charity executive director Andrea Highfield said the feedback she's received has been mostly positive, but admits there's room for improvement.
"We're trying to react to every (complaint) to improve," Highfield said.
Highfield said she hopes the event continues into the future and that training course marshals on instructing people about traffic alternatives will be a priority.
Felix Landrum, owner of Cafe Felix on Main Street, said many people didn't arrive for their Father's Day brunch reservations and that many others showed up late. Landrum said he warned people about the event when they made their reservations, but thinks people didn't realize it would be as tough as it was to get downtown.
"I guess I'd be willing to give it another shot. There have been races downtown before, but this one was extreme," Landrum said. "I think they should do it on a different weekend. I think it definitely had an effect (on the Father's Day brunch crowd)."
According to people at Weber's Inn, the brunch crowd wasn't affected by the race. A manager said numbers were comparable to last year and that no customer complaints about traffic were overheard. A representative of downtown's United Methodist Church said attendance was down at Sunday's services.
Highfield said her personal preference would be to not hold the event on Father's Day, but that the positive feedback she received from race participants was overwhelming.
"It meant so much to a lot of fathers running, people running in memory of their fathers and people who told me they were running for a cause because of their dad. There were so many (fathers) who told me they were running with their kids who loved it," Highfield said. "My preference would be not to do it on Father's Day, but in some ways it turned out to be very sweet and compelling."
Marco Capelli, who won Sunday's race, was among those who thought the race was well-run.
"This was a very organized, well designed run," Capelli said on Sunday. "I was amazed by that, because normally the first time you host a race like this, there's always something that goes wrong.
"But this was great."
Contact Pete Cunningham at petercunningham@annarbor.com or by phone at 734-623-2561. Follow him on Twitter @petcunningham.