Posted on
Fri, Jun 22, 2012 : 11:46 a.m.
MDOT gives Camp Take Notice another day to move out
By John Counts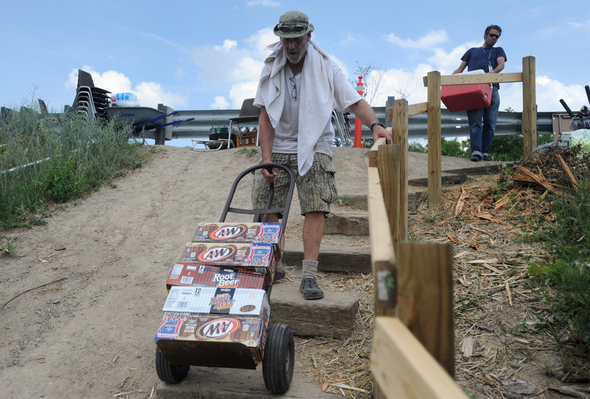 Angela J. Cesere | AnnArbor.com
Despite beginning to erect an eight-foot fence near its property along Wagner Road to keep out the homeless, the Michigan Department of Transportation is giving Camp Take Notice another day to move out.
"They're still in the process," said Mark Sweeney, regional manager for the MDOT, which owns the land off Wagner Road in Scio Township just west of Ann Arbor. "There was no eviction last night. We're letting them continue into (Friday)."
The offer is not open-ended. At the end of Friday, Sweeney said MDOT will re-assess the situation and decide if camp residents and the volunteer groups helping them should be given more time to haul out their gear. The original deadline was midnight Friday.
"It's just for today," Sweeney said. "We don't want this to be a protracted thing. We just want the camp closed."
As of 11 p.m. Thursday, evicted camp residents were still heading to the Delonis Center, said Julie Steiner, executive director of the Washtenaw Housing Alliance.
"As far as I can tell, it went as well as it could go," Steiner said about the camp's final night.
Fifteen former residents of Camp Take Notice ended up staying the night at the Delonis Center, said Ellen Schulmeister, executive director of the Shelter Association of Washtenaw County.
"We expect that number will increase tonight," she said.
This story will continue to be updated as more information is available.