Posted on
Thu, Jun 6, 2013 : 5:58 a.m.
MDOT project to close nine miles of I-94 in Ann Arbor for four weekends this summer
By Amy Biolchini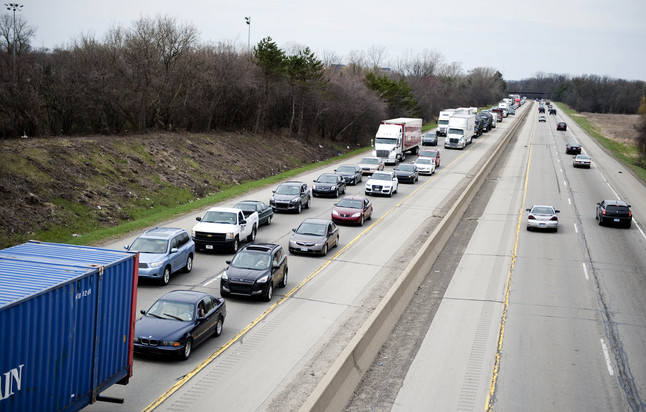 Daniel Brenner I AnnArbor.com
A
major repair project
on
Interstate 94
along the south side of
Ann Arbor
will separately close the road to eastbound and westbound traffic over four weekends this summer.
The Michigan Department of Transportation has allocated about $3.5 million in state and federal funds for the work, which is slated to begin after the July 4 holiday weekend.
The project, which will resurface about nine miles of I-94 from the M-14 split to the Carpenter Road overpass, is still out to bid.
One direction of I-94 will be entirely closed per weekend within the project limits, beginning with the eastbound lanes.
"No two directions will be closed at the same time," said Mark Sweeney, manager of MDOT's Brighton post.
The closures will begin late on a Friday and extend to the early hours of a Monday morning.
However, the specific dates for construction have not been set - and likely won't be announced until about four to five days before the closure is set to start, according to MDOT officials.
As a part of the contract, MDOT has specified certain weekends that the contractor cannot close the roadway because of major events happening in Ann Arbor - including the Ann Arbor Art Fairs, University of Michigan football games, college move-in weekends and graduations, Sweeney said.
It's up to the contractor to determine the schedule, Sweeney said. The contractor must finish the entire project by mid-November, Sweeney said.
Work will be weather-dependent. Crews can operate in a light rain, Sweeney said, but downpours will prevent work from happening.
"Ideally we want to make sure we're putting down quality work," Sweeney said.
Detours for the road closure will route drivers to take U.S. 23 to M-14 around Ann Arbor to continue on their east-west route.
I-94 is a composite roadway a layer of hot mix asphalt on top of concrete.
During the weekend closures, crews will be patching the concrete base of the roadway by cutting out concrete joints and re-pouring them, Sweeney said. MDOT anticipates the patching work on one direction of I-94 can be completed in two weekends' time.
"If we did this under traffic, we could take (I-94) down to one lane (on the weekends)," Sweeney said, explaining that it would take about seven weekends for the work to be completed on one direction of I-94.
Doing the work under traffic would create an unsafe work situation and would severely congest the area, Sweeney said. It would also push the project's completion date well into 2014, Sweeney said.
After the patching is completed on the roadway, MDOT will be announcing nighttime lane closures on I-94 so crews can mill about 1.5 inches of the road surface and re-pave it.
Sweeney said there will not be nighttime lane closures on one direction of I-94 when the other direction is completely closed over a weekend for the patching work.
Recognizing the brevity of the scope of the project, Sweeney said MDOT has met with emergency responders and business owners in two separate meetings to address questions they may have about the project.
Emergency responders were most interested in what the dates would be for construction, Sweeney said -- a detail that is still to be determined.
MDOT has set a public information session on the project from 11 a.m. to 1 p.m. and 5 to 7 p.m. on June 13 at the Pittsfield Township offices at 6201 West Michigan Ave.
At the same time that MDOT will be initiating the I-94 project, it will be balancing another resurfacing project on one of its detour routes for the project: M-14 between U.S. 23 on the north side of Ann Arbor; known by some as the "tri-levels."
The contractor for the tri-level project has been patching the roadway with hot mix asphalt since mid-May during nighttime lane closures seven days per week.
After July 4, that contractor will only be able to work during nighttime hours Mondays through Thursdays so the lane closures won't conflict with the detoured traffic from the I-94 project, Sweeney said.
"It's worth a little longer construction time to not affect the commuting traffic," Sweeney said.
After patching the roadway, crews will begin milling about 1.5 inches of the surface off the road and then re-paving it. The $1.5 million project is being funded using a mix of federal dollars and state money from the Michigan Transportation Fund.
For up-to-date information on scheduled lane closures:

View 2013 MDOT road construction in a larger map
Amy Biolchini covers Washtenaw County, health and environmental issues for AnnArbor.com. Reach her at (734) 623-2552, amybiolchini@annarbor.com or on Twitter.