Posted on
Sun, Feb 20, 2011 : 5:59 a.m.
Medical marijuana entrepreneur files lawsuit to halt Ann Arbor's proposed licensing ordinance
By Ryan J. Stanton
Ryan J. Stanton | AnnArbor.com
The city of Ann Arbor is facing legal action for the second time since embarking on its quest to regulate the budding medical marijuana industry.
Ann Arbor resident Tony Keene, an industry consultant and owner of a medical marijuana cooperative called Hydro Med on South Industrial Highway, filed a lawsuit against the city in Washtenaw County Circuit Court on Thursday.
Representing himself, the state-registered caregiver and patient is asking a judge to halt any further Ann Arbor City Council deliberations on a pending medical marijuana licensing ordinance — at least until certain concerns are addressed.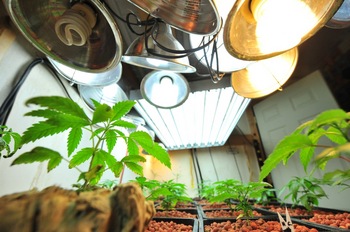 Ryan J. Stanton | AnnArbor.com
The case was assigned to Judge Melinda Morris, and a court hearing was set for 3 p.m. March 2.
Keene argues consideration of the ordinance — now months in the works — should cease until the terms "dispensary" and "cultivation facility" are properly defined. He says they should be as clearly defined as terms like "caregiver" and "patient" are under state law.
"Until comprehensive definitions are in place, no city of Ann Arbor resident or council member can determine what is being licensed and regulated," Keene writes in his complaint.
As it's currently worded, the city's licensing ordinance defines a "dispensary" in one sentence: "Dispensary means a medical marijuana dispensary."
"Cultivation facility" is defined as "a structure or each space in a structure that is separately owned or leased by a person other than the owner of the structure, in which marijuana plants are being cultivated other than as a medical marijuana home occupation."
Keene says those definitions leave him scratching his head.
"Before I have an opinion on what's going to be licensed or how it's going to be licensed, I want to know what they're trying to license," he said. "And I think it's fair — as a citizen, as a caregiver and as a patient — for them to offer more succinct and clear definitions."
City Attorney Stephen Postema called it "unusual" that Keene is challenging an ordinance while it's still in the process of being drafted.
"He's really asking for the court to get involved with a legislative action before it's even complete — the ordinance isn't even done yet," he said. "It's not even past first reading. So it's improper for the court to get involved at this point. It doesn't even make sense."
As for Keene's concerns about definitions in the ordinance, Postema said there's still time for revisions, and the council is taking all input into consideration.
"Council is working through this diligently, and they'll address all appropriate issues in the ordinance," Postema said.
Keene said he decided to take legal action only after publicly raising concerns at City Council meetings in recent weeks without any response.
"I went to them six weeks ago, and I came back again two weeks ago, and there has been virtually no change in the process," he said. "They're still going ahead with making these rules without telling me what's what. Is a cultivation facility 100 plants? Is it 72 plants?"
Keene's lawsuit is the second against the city since it began discussions last summer on how to regulate medical marijuana businesses.
The Ann Arbor Chronicle filed suit in September, claiming the City Council violated the Open Meetings Act by holding "secret discussions" on medical marijuana policy behind closed doors. Judge Morris, who will hear Keene's case, threw out the online news organization's complaint last month.
The city has had a moratorium on new medical marijuana businesses since last August. Once the moratorium is lifted, it's expected that only a small handful of licenses will be made available to cultivation facilities and dispensaries that aren't already established.
City officials aren't sure whether Keene's business was up and running before the moratorium hit. According to domain registry data, Keene started his website a2HydroMed.com in January. But he said his co-op existed "long before" the moratorium.
In any case, Keene said that's not a concern to him — he doesn't think he needs a city license to operate a co-op that follows state law.
"I don't fear anything, because there is no way for the city to shut down someone who's in compliance with the Medical Marihuana Act," he said.
Ryan J. Stanton | AnnArbor.com
Keene doesn't describe his business as a dispensary. It's not even open to the public. It's a small co-op with five primary caregivers, each with up to five patients.
But it's arguably a cultivation facility, with patients and caregivers working together to grow dozens of marijuana plants under one roof.
Keene is just now ramping up the operation.
"We're remodeling spaces right now to open up an actual institute, where we'll actually be training people to grow, and we'll have our fertilizer company where we make all the fertilizer for growing," he said. "One of my primary ways of making money isn't selling pot — it's that all the pot that's grown is done with fertilizers that I produce."
With state law limiting each caregiver to five patients, Keene knows his business model isn't competitive with dispensaries that are serving sometimes hundreds of patients. And that's why he'd prefer Ann Arbor not allow dispensaries at all.
"I'm very adamant about separating medical marijuana from dispensaries, and that's the second reason I'm doing this," he said. "Unfortunately, I think that eventually I'll lose, and we'll have Amsterdam-style dispensaries. My prediction is there'll be 60 of them a year from now."
Keene remains hopeful his business will take off. He has big plans for a multifaceted operation that is part indoor farm, part research facility, and part chromatography lab — with quality-control testing for THC and cannabinoids. His hope is to offer "certified pot."
"I'm just not interested in selling pot — I'm interested in seeing this become a legitimate business," he said. "We're talking pharmaceutical development, pharmaceutical research. There's a huge, legitimate industry to be built out of this. And the dispensary model, it's turned into a group of people who want to have Amsterdam here. I'm sorry, this is the Midwest."
Ryan J. Stanton covers government and politics for AnnArbor.com. Reach him at ryanstanton@annarbor.com or 734-623-2529.