Posted on
Tue, Nov 16, 2010 : 6:03 a.m.
Medical marijuana moratorium extended 60 days as Ann Arbor officials work out details of ordinance
By Ryan J. Stanton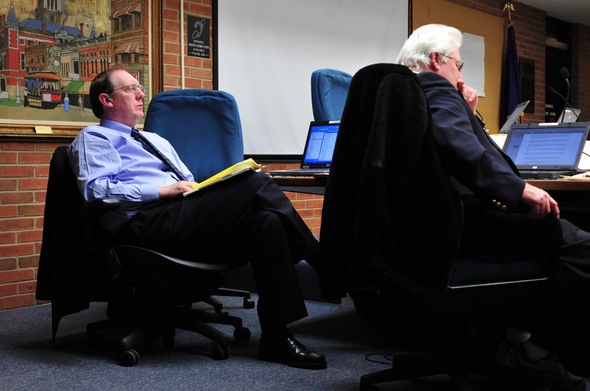 Ryan J. Stanton | AnnArbor.com
An ongoing moratorium prohibiting new medical marijuana dispensaries from opening in Ann Arbor will last a little longer while city officials work out legal issues.
The Ann Arbor City Council voted unanimously Monday night on a resolution to extend the moratorium they enacted back in early August for 60 more days, or until Jan. 31.
The temporary freeze was set to expire Dec. 3, but the city attorney's office is asking for more time to come up with a licensing ordinance for marijuana businesses, which will complement zoning ordinance revisions governing where dispensaries can be located.
The City Council was expected to act Monday night to implement the new zoning regulations, which have been in the works for months. But council members decided to postpone any action at the urging of City Attorney Stephen Postema.
Unlike the zoning changes, the licensing aspect hasn't been discussed in public, and Postema is advising the council it would be best to roll out both pieces at the same time.
The attorney's office plans to bring the licensing plan to the City Council at its Dec. 6 meeting. From there, it would go on to final approval on Dec. 20, the same night the zoning regulations are now expected to come back.
"It's really a licensing plan," Postema said. "We're not completed on that, but we're looking at a number of different regulations that I would propose to the council. It's actually the council's decision, but it would really include things related to who can own a dispensary, what type of dispensary, what type of security regulations, what type of business arrangements and that type of thing — putting regulations in place that have been successful elsewhere."
City officials have been working since August to come up with first-of-their-kind regulations for medical marijuana dispensaries that are now sprouting in Ann Arbor. They have estimated about eight or nine operations opened before the moratorium hit.
While marijuana remains illegal on a federal level, the legalization of medicinal cannabis in Michigan in 2008 has presented a unique situation for cities like Ann Arbor.
"It's unprecedented, in part, because you have a situation where the state of the law is uncertain at the state and federal level, and therefore it forces the municipalities to do what is best," Postema said. "The federal government and the state government may not have done the best job and may have put the municipalities in difficult situations."
In recent months, AnnArbor.com has fielded several phone calls from marijuana growers throughout Michigan and as far as Colorado who say they're interested in opening medical marijuana operations in Ann Arbor as soon as the moratorium is lifted.
"I've never dealt with licensing, especially licensing on this level, so I'll be showing my ignorance," Council Member Sabra Briere, D-1st Ward, said Monday night, wondering whether the City Council should hold a special working session on the issue.
"You say that you're not familiar with it — that's because this is an unprecedented issue," Postema responded. "And therefore, I think there are issues certainly that deal with regulation that would go as broad or as narrow as you, as the council, see fit. Because when you look around the United States, there are all sorts of possible schemes."
Public sentiment in favor of medical marijuana is strong in Ann Arbor, where voters overwhelmingly have supported efforts to make it available to those who say they need it.
In 2004, a proposal to amend the Ann Arbor City Charter to allow the growth and use of marijuana for medicinal purposes when authorized by a physician passed locally with 75 percent of the vote. In 2008, Ann Arbor voters joined a majority of Michigan voters in approving a referendum that legalized medical marijuana statewide.
Postema appears hesitant to use the word "legalized," though.
"The state can't legalize it under federal law," he said. "The best they can do is provide a decriminalization and a defense (to prosecution) under state law. But even despite that, the council is certainly ready and will do something that's wise for the citizens of Ann Arbor."
Though the new moratorium end date is Jan. 31, it actually will expire upon the effective date of the regulations being approved by the council, city officials said.
Ryan J. Stanton covers government and politics for AnnArbor.com. Reach him at ryanstanton@annarbor.com or 734-623-2529.