Posted on
Tue, Jun 21, 2011 : 5:59 a.m.
Ann Arbor sets medical marijuana regulations - and line for dispensary license starts already
By Ryan J. Stanton
Ryan J. Stanton | AnnArbor.com
Within minutes of the passage of Ann Arbor's new
medical marijuana regulations
, cannabis entrepreneur
Rhory Gould
already was claiming his spot in line.
Gould, who hopes to open a dispensary on Packard Road just east of Platt, had an associate camp outside city hall Monday night to ensure he gets one of a limited number of licenses the city plans to hand out allowing marijuana businesses to operate in the city.
"We're prepared to stay there as long as necessary to ensure that we are first in line to turn in our application," Gould said. "Ultimately, we would like to see the city issue numbers to avoid having to camp out for such a long period, but we are prepared to camp as long as necessary if the city is not willing to issue us a number. We want to be No. 1 in line."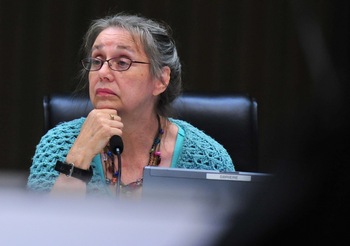 Ryan J. Stanton | AnnArbor.com
The Ann Arbor City Council voted 8-2 Monday night with
Tony Derezinski
absent to give final approval to a medical marijuana
licensing ordinance
that's been in the works since last year.
The council also voted to approve a zoning ordinance that spells out where medical marijuana operations can be located in Ann Arbor.
The city has had a moratorium prohibiting new dispensaries from opening in Ann Arbor since last August, but city officials estimate there still are about 15 to 18 operating in the city.
The council took action Monday night to extend the moratorium for 120 days, which will last through the end of October. So even though the ordinances will take effect in 60 days, there still will be a lengthy window of time before any new dispensaries — Gould's included — could open.
Operations that were up and running prior to the moratorium last August have up to 60 days after the ordinance takes effect to submit an application for a license. No other applications are going to be accepted until 75 days after the ordinance takes effect.
The licensing ordinance caps the licenses to be issued at a number 10 percent higher than the licenses applied for in the first 60 days, but not more than 20. So, if there really are 15 to 18 dispensaries already operating in Ann Arbor, and all of them seek licenses, no more than two additional licenses would be available to new dispensaries.
"It sounds like there are going to be one or two of them offered, and hopefully we'll get one of them," said Gould, who has plans for a dispensary called Arborside Health and Wellness. He's been waiting months for the City Council to finish work on the ordinances and, in the meantime, has been paying rent for a future storefront operation at 3150 Packard Road.
City Attorney Stephen Postema said he wouldn't recommend anybody camp outside of city hall to get a license. He said it'll be up to a new medical marijuana licensing board to determine the process for applying for dispensary licenses in Ann Arbor.
"The board would have to make a determination on that and it's not clear what they will do," Postema said. "Being first in line may not ensure a license."
Council members were relieved to have work on the ordinances, for the most part, behind them Monday night. They've been working on them for months with constant input from the medical marijuana community.
City officials still anticipate future court decisions could drive the need for additional changes to the regulations.
Postema said the Michigan Court of Appeals is expected to rule soon on a case out of Isabella County that could have broad implications for marijuana dispensaries in Michigan.
Isabella County Trial Court Judge Paul Chamberlain ruled in December that patient-to-patient transfers and deliveries of medical marijuana fall "soundly within medical use" of marijuana as defined under the Michigan Medical Marijuana Act.
Oral arguments in the case — the state of Michigan vs. Compassionate Apothecary LLC of Mount Pleasant — were heard by the appeals court two weeks ago. Postema said he's expecting the court to take swift action, potentially overruling the trial court's decision.
"What's significant about a court of appeals issue is that — to the extent that it's published, and I believe it would be published — it would be binding on all the courts and would be the first time an appellate court would provide guidance on this," Postema said.
He said that would be sorely needed guidance for cities like Ann Arbor that have struggled to interpret the state law, which makes no mention of marijuana dispensaries. Meanwhile, marijuana remains an illegal controlled substance under federal law.
"Frankly, it's the guidance that municipalities need," Postema said of the anticipated appeals court ruling. "Everybody's waiting for this to come down."
Postema said a ruling that says patient-to-patient transfer of medical marijuana is illegal would be a game changer for many dispensaries in Ann Arbor that have adopted such a business model. He encouraged council members to hold off on passing the ordinances Monday night and to instead wait to see what the appeals court has to say first.
Mayor John Hieftje asked if the court could rule in such a way that dispensaries would be completely outlawed in Michigan. Postema said that's a possibility.
"To what extent they're also going to deal with other business constructs, we don't know," he said. "We don't know what they're going to say about dispensaries in general."
Council members ultimately decided they wanted to pass the ordinances Monday night and deal with having to tweak them later if they conflict with any court rulings. Council Member Carsten Hohnke, D-5th Ward, said he didn't see the harm in going that route.
"There's clearly some benefit to us moving forward," he said. "It provides some clarity and timeline and process and we've been at this for a while, and there are people who are depending on us coming to some kind of conclusion here."
Council Member Sandi Smith, D-1st Ward, agreed.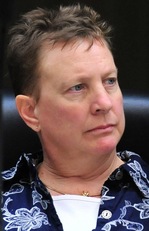 "I think we've hammered this out and we're really ready to cross the finish line," she said. "I don't feel it's our job to anticipate when and how things are going to come from the state. I would like to move this forward, and if we need to make adjustments later on, we can do so or dispensaries will make adjustments to make sure they're in compliance."
Hieftje, who favored postponing the issue for another month, appeared frustrated with Smith and others who wanted to pass the ordinances, though he ultimately voted for them.
"I would point out that anyone who has a medical marijuana card and wants to receive marijuana, there are dispensaries open," he noted.
The two voices of opposition to the ordinances Monday night were Council Members Marcia Higgins, D-4th Ward, and Stephen Rapundalo, D-2nd Ward.
Rapundalo called it "ridiculous" to have the city spending any more time and effort on coming up with its own ordinances when the issue is still playing out at the state level. He also said the ordinance language was "still insufficient" in terms of regulatory parameters needed.
"I certainly find the allowance of dispensaries to be problematic," he said, adding he didn't think dispensaries should be allowed at all in Ann Arbor.
Council Member Sabra Briere, D-1st Ward, brought forward a series of minor amendments Monday night, including eliminating a requirement that dispensaries include the dollar amount of medical marijuana products on package labels.
The zoning ordinance, as approved, states medical marijuana dispensaries and cultivation facilities can't be located within 1,000 feet of an elementary or secondary school.
Another rule is that no one under the age of 18 is allowed inside a medical marijuana dispensary or cultivation facility unless accompanied by a parent or guardian. Also, no smoking, inhalation or consumption of marijuana can take place on the premises.
Drive-in dispensaries are prohibited under the zoning ordinance, which also states all activities of a dispensary or cultivation facility must be conducted indoors.
Another rule states, "No equipment or process shall be used in any medical marijuana dispensary or medical marijuana cultivation facility which creates noise, dust, vibration, glare, fumes, odors or electrical interference detectable to the normal senses beyond the property boundary." Also, no more than 72 marijuana plants can be grown at a cultivation facility.
Dispensary owner Chuck Ream, one of the leading voices in the medical marijuana movement locally, told council members at the start of Monday's meeting he thought the licensing ordinance was "pretty well done" but the zoning ordinance still was in "very bad shape."
Ryan J. Stanton covers government and politics for AnnArbor.com. Reach him at ryanstanton@annarbor.com or 734-623-2529. You also can follow him on Twitter or subscribe to AnnArbor.com's e-mail newsletters.