Posted on
Tue, Dec 1, 2009 : 6:39 p.m.
Medical students carol for changes to the health care bill at Congressman John Dingell's office
By Tina Reed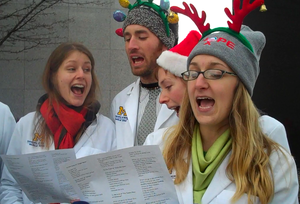 University of Michigan second year medical student Zoey Thill, right, and other U-M medical students carol for health care Tuesday in honor of World AIDS Day. Tina Reed | AnnArbor.com
About a dozen University of Michigan medical students - many dressed in lab coats and holiday apparel - headed to Ypsilanti to sing Christmas carols Tuesday morning.
But the students, singing on Michigan Avenue outside Rep. John Dingell's office in honor of World AIDS Day, weren't exactly trying to spread good cheer.
With rewritten lyrics, they were instead calling for more support for AIDS treatment and prevention funding and for Dingell, D-Dearborn, to use his clout to make certain improvements to the health care reform bill.
One of the biggest issues, they said, was a line in the current draft of the bill relating to a certain class of pharmaceuticals call biologics. Many biologics are made from living components, such as living cells, and have provided significantly advanced treatments for different diseases, the students said. 
However, the bill as it's written would allow a 12-year period where drug makers are able to keep market exclusivity, or avoid the creation of generic drug competitors - unlike the five-year period allowed for conventional drugs. The bill would also allow companies to extend their market exclusivity by making small tweaks to the product.
This could stifle patient access to more affordable generic drugs that could help HIV and AIDS patients in the future, said Marce Abare, a second-year medical student at U-M and an organizer of the event. Dingell has the seniority to make this portion of the bill a priority, she said.
Dingell's office did not respond to a request for comment on Tuesday afternoon.