Posted on
Wed, Feb 24, 2010 : 6 p.m.
Medical team from University of Michigan sends updates from Haiti
By Tina Reed
A University of Michigan Health System blog says the U-M team deployed to Haiti has been busy since beginning work on the U.S.N.S. Comfort last week.
The group was deployed to offer medical assistance on a Navy relief ship sent to Haiti following last month's devastating earthquake there.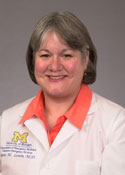 In an update from the team called "Wolverine Team 1" on U-M's Haiti Relief blog, team medical director Marie Lozon said they had been needed in a number of capacities.
"We are jumping in to care for patients all over the ship," the U-M associate professor of emergency medicine said in the blog. "We are everywhere - ED, OR wards, units - and we have all cared for several patients from intake to post-operation to ward. The UM team was told by Navy leadership that it is the most organized and cohesive group, and all of us were complimented for demonstrating that taking care of patients is most important, despite the many distractions in an environment like this."
The group expects to return to Michigan by the beginning of next week, but spokeswoman Kara Gavin did not specify when.
According to the blog, the Health System isn't planning further medical relief missions due to reduced admissions in those needing medical assistance from the earthquake.
Tina Reed covers health and the environment for AnnArbor.com. You can reach her at tinareed@annarbor.com, call her at 734-623-2535 or find her on Twitter @TreedinAA.