Meningitis update: Ypsilanti pain clinic did not receive contaminated steroid shots
Posted on Tue, Oct 9, 2012 : 12:49 p.m.
The Ypsilanti office of Michigan Pain Specialists did not receive any of the contaminated steroid injections that have sickened 21 people in Michigan with fungal meningitis, a St. Joseph Mercy Health System spokeswoman said Tuesday.
Michigan Pain Specialists' Brighton office treated patients suffering from back pain with the contaminated serum, but the Ypsilanti office, 135 S. Prospect St., did not, said Lauren Smoker, spokeswoman for St. Joseph Mercy Ann Arbor in Superior Township.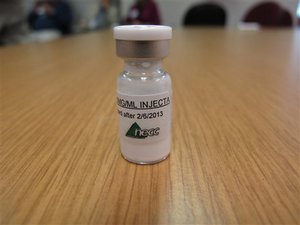 AP photo
The hospital is
treating 18 of the 21 people
in Michigan who developed fungal meningitis linked to the contaminated steroid injections. The condition of the patients ranges from good to serious, Smoker said Tuesday.
One of the 21 patients is being treated at the University of Michigan Hospital, spokesman Pete Barkey said Monday. Another person died last month at the hospital. U-M did not identify that person, but the Associated Press reported that Lillian Cary, 67, of Howell Township, died Sept. 30 from fungal meningitis at the U-M Hospital.
Across the country, the contaminated steroid shots have been linked to 105 cases of fungal meningitis in nine states and eight deaths.
Michigan Neurosurgical Institute of Grand Blanc
Neuromuscular & Rehabilitation in Traverse City
Southeast Michigan Surgical Hospital in Warren
Symptoms of meningitis include severe headache, nausea, dizziness and fever. The CDC said many of the cases have been mild and some people had strokes. Symptoms have been appearing between one and four weeks after patients got the shots.
Fungal meningitis is not contagious like the more common forms. The two types of fungus linked so far to the outbreak are all around, but very rarely causes illness. Fungal meningitis is treated with high-dose antifungal medications, usually given intravenously in a hospital, according to the Associated Press.
Meanwhile, some legislators were calling for new legislation to regulate the way pharmacies mix drugs, Reuters reported.
The source of the tainted drugs was the New England Compounding Center, health officials have said. The center, in Framingham, Mass., "is one of thousands of pharmacies that repackage or recombine medications on a sizable scale," the news agency reported.
Democratic lawmakers said Congress should give the FDA stronger oversight of such facilities, according to the report.