Posted on
Fri, Dec 30, 2011 : 2:51 p.m.
Meteorologist: December rainfall totals 'not that significant' despite drenching
By Danielle Arndt
This week's rain in Ann Arbor meant the area topped 50 inches of rainfall for 2011 - yet despite more scattered showers in the forecast for overnight, meteorologist Dave Kook of the National Weather Service said it's not uncommon to have a weather pattern like this in December.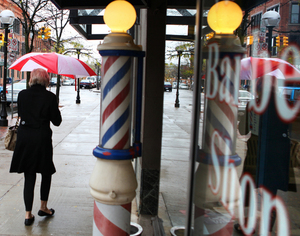 2011 has been the wettest year in history for
Ann Arbor
. As of 1 p.m. Friday, the
University of Michigan
measured 50.62 inches of rain since January.
Friday's rainfall totaled 0.04 inches from 7 a.m. to 1 p.m. at the Detroit Metro Airport. Kook said the area likely can anticipate another 0.2 inches to fall by Saturday morning.
Kook said these totals are minor and a normal day's worth of precipitation is about an inch. Summer thunderstorms can generate an inch of rainfall in a matter of hours, he said, adding rain Friday and Saturday will be absorbed into the ground quickly and should not cause slippery roadways or flooding.
One to two inches of snow is expected to accumulate over Sunday and Monday, according to the National Weather Service. Kook said the snow likely will not stick, as temperatures are forecasted to remain around 30 degrees.
Kook added people have a misconception about snow in December, largely due to the desire for a white Christmas. But snow is most common in January and February, he said.
The average value for rainfall in December at Detroit Metro is 2.31 inches. Measurements as of 1 p.m. today showed 2.45 inches. Detroit Metro also typically sees 8.9 inches of snowfall, while totals today showed 5.7 inches for December.
"So the numbers for the month are not really that significant," Kook said. "January and February are the coldest months of the year. So once we hit January-February, we should see things pick up snowfall-wise."
U-M weather observer Dennis Kahlbaum said the Climate Predication Center has forecasted precipitation totals in January through March will be below normal as well.
He said the warm weather can be attributed to confluence of weather patterns in the North Pacific and Atlantic oceans.
Kook added people should not be concerned about the wet 2011 southeastern Michigan saw.
"If we saw this five-six years in a row, then maybe we could start to worry about climate change," he said. "But weather is what's happening now; climate is what's happened in the last 40, 50, 60 years. Weather can change in an instant, whereas climate change is a very gradual, slow process."
Staff reporter Danielle Arndt covers K-12 education for AnnArbor.com. Follow her on Twitter @DanielleArndt or email her at daniellearndt@annarbor.com.