Mlive.com:

Michigan Amtrak routes to get bi-level passenger rail cars with Wi-Fi

Posted on Mon, Apr 23, 2012 : 4:30 p.m.
Amtrak plans to add 25 bi-level passenger rail cars to its Michigan lines by 2015, including the Wolverine line that runs through Ann Arbor, according an MLive.com report.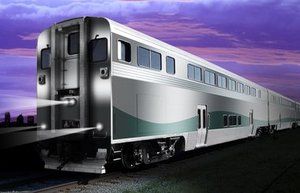 Courtesy California Department of Transportation via MLive
The report says the U.S. Department of Transportation has opened bidding for a $551 million project to manufacture about 130 bi-level passenger rail cars to be used in Michigan, California, Illinois, Indiana, Missouri and potentially Iowa. The cars must be made in America.
The cars would be used on three Michigan lines: the Blue Water, the Pere Marquette and the Wolverine. A standard single-level car on the Wolverine line holds 68 passengers, while the bi-level cars will accommodate up to 90, according to the report.
Amtrak says it's providing amenities that travelers are looking for, including Wi-Fi and bike racks.