Posted on
Tue, Nov 10, 2009 : 10:36 a.m.
Michigan Athletic Director Bill Martin accused of pushing, grabbing student employees
By Amalie Nash
Retiring Michigan Athletic Director Bill Martin admitted Monday he mishandled a situation with an employee who alleged Martin grabbed him at Michigan Stadium after the Delaware State game this fall.
Another security employee also reported to police that Martin pushed her after the Notre Dame game a month earlier, but Martin said in a letter he didn't recall that incident.
The latest incident occurred just three days before Martin abruptly announced his retirement on Oct. 21. That same day, a police investigator alerted Martin of the police investigation, a police report said.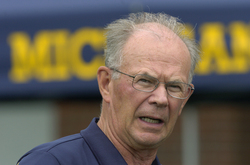 Lon Horwedel | AnnArbor.com
AnnArbor.com requested a copy of the police reports Oct. 23, but just received the reports Monday evening - along with the letter from Martin, which is dated Monday.
Martin could not be reached for comment Monday evening. The cases have both been closed; the employees told police they did not want to press charges, according to the reports.
Both incidents occurred as Martin was attempting to enter the secure U-M Regents guest area during the games, according to the reports. A new security procedure was blamed for the confusion.
"The employees were part of a new security process for the stadium's guest areas and they (one each, on two separate occasions) did not initially allow Martin - who was unaware of the new procedure - to enter," U-M spokeswoman Kelly Cunningham said in an e-mail statement. "The change caused unnecessary confusion and we are working to improve the process for future games."
Cunningham declined to discuss the new security measures Tuesday. She also said Martin's retirement announcement was not linked to the police investigation.
"They are in no way linked," Cunningham said. "He had been thinking about retirement for a long time."
Both employees - one is a student at U-M and the other is a student at Eastern Michigan University - are assigned to special assignments through the campus Department of Public Safety.
Employee Jackie Turner told police she was working the Michigan game against Notre Dame Sept. 12 and was assigned to the U-M Regents guest area, which also has a door leading to the general seating area. She said three men in U-M polo shirts attempted to walk into the regents' area, and she asked to see the first man's pass to get inside.
Turner told police the man put his right hand on her left shoulder and said, 'Honey, I am the athletic director," the report said. Turner said that he "then pushed her on the left shoulder just hard enough to guide her out of his way," reports said. She told police she did not resist, and the three men walked by.
According to the report, Turner told a police supervisor on Oct. 3 that someone pushed her during one of her assignments on Sept. 12, but she didn't identify that person. She told the supervisor who it was and what happened after she learned another employee had been involved in an altercation with the same person on Oct. 17.
The second incident occurred during the Delaware State game. In that case, employee Arif Khan said he was working the south stairwell during the game, and after the game ended, Martin and a woman attempted to get inside the Regents area.
"Khan said that initially the two started to walk past him as if he wasn't there," the report said. 
Khan told police he put his hand on the door and said he needed to see their passes to enter the area.
Khan told police Martin became upset and "used his right hand to forcibly grab Khan's windbreaker and gripped a large portion of Khan's DPS issued uniform windbreaker," the report said.
Khan said the person then told him, "I am the athletic director, I can go in." He also said Martin grabbed his identification badge hanging around his neck, saying, "I want to know your name."
A University Development Events staff member identified Martin and allowed him to enter, the report said. 
Both employees told police on Oct. 17 they needed time to decide whether to press criminal assault and battery charges. On Oct. 20, they told police investigators they had decided not to prosecute, but they "hoped there would be some follow up in the incident" and would be willing to meet with Martin if it was appropriate, the report said.
Turner and Khan could not be reached by AnnArbor.com this evening.
An investigator spoke to Martin Oct. 21 and advised him a report was made, but was being closed. According to the report, "Martin told me that he had no intent to harm or scare the student worker and agreed that this type of incident would not occur in the future."
Martin's letter was placed in the file today and says he requested that "my understanding and recollection be placed on file in this matter." In the letter, he says his regular practice had been to cut through the Regents guest area to get to the athletic director's box, then retrace his steps at the end of the game.
For eight seasons, he wrote, he was greeted by a DPS security employee who recognized him and let him through. Martin said in the letter that he didn't recall the Sept. 12 incident. On Oct. 17, he said he remembers being stopped by someone who "did not have the DPS blue uniform on."
Martin wrote that he identified himself to the employee and was told the all-access pass his wife had didn't allow entry to the Regents area.
"It was a frustrating situation, and one I should have handled differently," he wrote. "... I have communicated with both employees to discuss the situation and express my regret. They were just doing their jobs."
Diane Brown, a spokeswoman for campus police, also said she could not discuss specific security measures at Michigan Stadium.
Martin plans to retire on Sept. 4, 2010. He became Michigan's athletic director on an interim basis on August 1, 2000, replacing Tom Goss.
Amalie Nash is the news director at AnnArbor.com. Reach her at amalienash@annarbor.com or 734-623-2521.