Posted on
Thu, Dec 1, 2011 : 1:34 p.m.
Attorney general: Graduate assistant union would 'seriously jeopardize' U-M's excellence
By Kellie Woodhouse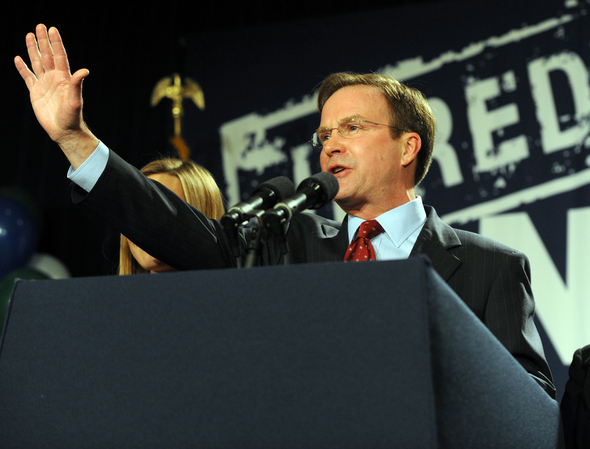 AnnArbor.com photo
Michigan's attorney general has entered a heated debate regarding the unionization of thousands of
University of Michigan
graduate student research assistants.
Bill Schuette, who has held the state's top legal advising position for 11 months, tried to stymie the year-long unionization effort by filing a motion with the Michigan Employment Relations Commission yesterday.
"Unionization will compromise the integrity of the mentor-mentee relationship essential to a successful and prestigious doctoral program," Schuette wrote in the motion, saying unionization would "significantly damage" and "seriously jeopardize" U-M.
The unionization of GSRAs has been a controversial issue since early this year, when the Graduate Employees' Organization sought permission from the commission to unionize in April. GEO includes student instructors, who already have a union, and research assistants.
Despite fervent criticism of unionization from U-M President Mary Sue Coleman, the Board of Regents voted this summer to support the unionization.
The commission disagreed with the regents.
It decided in September to deny the GEO petition, citing a 1981 Michigan court ruling that states GSRAs are students and not employees.
The GEO, however, immediately filed a motion for the commission to reconsider its decision, once again arguing that they are paid for university-related work and should therefore be considered employees.
That reconsideration hearing is Dec. 13.
In the balance is the ability for about 2,200 U-M GSRAs and tens of thousands of GSRAs from other state universities to unionize.
In his motion, Schuette asks the commission to affirm its original September decision on the grounds of the 1981 ruling. He also seeks official involvement in the commission's Dec. 13 review.
"The imposition of a third party into the educational process could make the university less attractive as a research institution and compromise its ability to attract the top students, top researchers and significant private and public research funding," Schuette claims in the motion.
In October, 19 current and former U-M deans wrote a letter to university administrators expressing similar concerns.
After Schuette's filing, GEO officials shot back at their opponents, reasserting their desire for a union election.
"GSRAs have a right to make this decision for themselves, without interference from outside parties," Christie Toth said in a statement.
In an interview, U-M graduate student instructor Liz Rodrigues echoed Toth's concern.
"Form our point of view, this is another example of someone who's neither the employer or the employee getting involved," said Rodrigues, the GEO communications chair. "GSRAs have the right to decide if they want to form a union."
"It's a right-to-vote issue," she continued.
Rodrigues denied Schuette's claim that unionization would damage U-M.
"As a graduate student instructor myself, I know that the strong Graduate Employee Organization at the University of Michigan is one of the reasons I decided to come here," she said, adding that GSIs have been unionized for more than four decades. "Our program is strong nationally."
In November, the Michigan Student Assembly passed a resolution supporting the unionization effort.
Read Schuette's filing here.
This story has been updated.
Kellie Woodhouse covers higher education for AnnArbor.com. Reach her at kelliewoodhouse@annarbor.com or 734-623-4602 and follow her on twitter.