Posted on
Thu, Jan 24, 2013 : 9:47 a.m.
Michigan-based Priority Health adds University of Michigan Health System to its network
By Amy Biolchini
Editor's note: This story was updated at 10:50 a.m. with additional information from Tom Daly of the University of Michigan Health System. The Michigan-based health insurance provider Priority Health is adding the University of Michigan Health System to its list of providers, officials announced Thursday.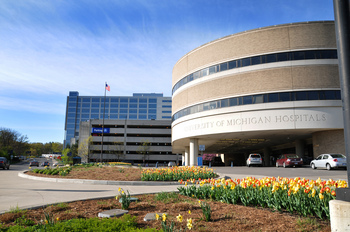 University of Michigan Health System photo
UMHS is joining Priority Health to serve its HMO, PPO, POS and Medicare product lines, with an evergreen contract beginning March 1, according to a news release.
"We are excited at the opportunity to expand our provider network to include the University of Michigan Health System," Michael P. Freed, president and chief executive officer of Priority Health, said in a statement. "This new collaboration provides even more access for our ever-growing membership while enhancing our health care network to care for the people of Michigan."
UMHS' full range of medical services will now be available to the approximate 600,000 people covered by Priority Health plans, according to the news release.
Priority Health is a nonprofit company founded in 1986 with offices in Farmington Hills, Kalamazoo, Grand Rapids, Lakeshore, Jackson, Traverse City. Its plans extend across 65 counties in Michigan.
Tom Daly, director of contracting for the health system, said UMHS pursued the agreement with Priority Health mainly to ensure that patients from all parts of Michigan can be referred to UMHS for complex, specialty care.
"We realized there was a greater need for both of us to allow access to high-end services. We project that the bulk of the business will be from referrals," Daly said. "As we partner with Priority Health in this program, it will give greater access to people in the state of Michigan to get to us."
Priority Health has become more of a presence in Southeast Michigan recently, Daly said. As employers in the region switch to Priority Health, it will allow employees to continue to receive care at UMHS, Daly said.
UMHS is a provider for more than 45 insurance plans. The health system continues to add health insurance plans every year, especially as more Medicare advantage plans are developed, Daly said.
The health system is also actively seeking insurance plans to add to make sure patients can be referred from other states, Daly said.
"People don't come for buildings; they come for our clinical services and our physicians," Daly said.
Amy Biolchini covers Washtenaw County, health and environmental issues for AnnArbor.com. Reach her at (734) 623-2552, amybiolchini@annarbor.com or on Twitter.