Posted on
Sun, Aug 15, 2010 : 6:02 a.m.
Michigan could save millions by consolidating school districts, study shows
By David Jesse
Melanie Maxwell | AnnArbor.com
Editor's note: A research integrity committee at MSU has found professor Sharif Shakrani guilty of "academic misconduct'' for plagiarizing several paragraphs of information in the study this story is based on. The finding was based on Shakrani's use of background information without attribution and did not affect the conclusions of his study. See the story here.
This story was written and reported by Dave Murrary, Kym Reinstadler and David Jesse as part of a project by Booth Newspapers of Michigan.
Being true to our schools comes with a price - and it runs in the millions of dollars.
Michigan has 550 public districts -- and nearly that many superintendents, business managers and transportation directors. Trim that management layer, erase district boundaries and recast administration around county lines, and state taxpayers save $612 million a year after three years -- all without closing a school or losing one high school mascot.
That's the finding of a new study of school administration costs commissioned by AnnArbor.com and seven affiliated newspapers. The $612 million savings represents about 4 percent of total school budgets, or 8 percent to 11 percent of school spending once bricks-and-mortar costs are subtracted.
READ THE REPORT
In Washtenaw County, getting rid of the 10 traditional school districts and reinventing them as one county district would save about $18 million.
"County boundaries are arbitrary as well," said Saline Superintendent Scot Graden. "What we're finding makes sense is regionalism."
He said that's particualry true in places where there's a large difference between large districts with high labor costs and smaller more rural districts with lower labor costs.
But Graden also said consolidation should be looked at, especially as the number of students continues to drop.
"Consolidation just for the sake of consolidation doesn't work," he said. "It's almost on a case-by-case basis."
A less involved change, with no district boundaries erased, could save Michigan taxpayers $328 million. This "shared services" model puts all public school transportation, food service and operations and maintenance at the county level. In Washtenaw County, "shared services" would get about $7.7 million in savings.
Researchers at Michigan State University's Education Policy Center performed the study. The newspapers sought the results amid a growing state and national debate about school consolidation and cost-cutting.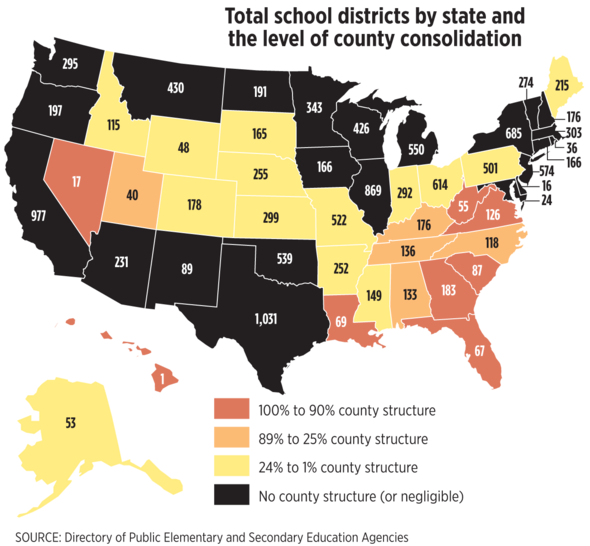 Nationally, school district consolidation advocates include the National Governors Association. Most states have recently considered reducing the number of districts. Maine, especially, has taken a hard look at consolidations to resemble countywide districts in place in Florida, Maryland and Virginia. Hawaii has a statewide district.
Michigan has the nation's fifth highest number of school districts. And with shrinking state revenues and rising legacy costs in the state, top leaders such as state Superintendent Michael Flanagan and business advocacy groups are calling for shared services.
Former state Superintendent Tom Watkins, Flanagan's predecessor, is a forceful voice for outright consolidations.
"Maybe the way things are set up now was good public policy and made sense 20 years ago, when the money was there. There's nothing wrong with paying people a nice wage and having small school districts," Watkins said. "But that's as if Ford and GM behaved as if Honda, Toyota and Hyundai didn't exist. Now there is declining enrollment and choice and charters, yet the infrastructure is operating as if nothing has changed. They need a reason better than 'We've always done it this way.'"
Ypsilanti parent Erin Toles would love to see consolidation.
"I've never understood why there are three school districts in the greater Ypsilanti area (Ypsilanti, Lincoln and Willow Run)," Toles said. "It doesn't make any sense to me. All three are having big-time financial problems. Why not merge them together, save money by having one headquarters? That just makes sense to me."
But forcing mergers on reluctant communities - or even getting school boards to agree to share services - is a political nightmare, proponents acknowledge.
FUNDING
Michigan schools have been funded largely based on enrollment since voters in 1994 approved the landmark school finance overhaul called Proposal A.
Districts get a minimum of $7,162 per student from the state government, though some receive a little more, a holdover from the days when each district set its own levy. Most of the state money is raised by a 6 percent sales tax and lottery proceeds.
But there are other, smaller, sources that help pay for special programs and buildings.
Local funding: Schools still get some funds from property taxes, collected at different levies for primary residences and second homes or commercial property. Kent and Ottawa area districts also get money collected through intermediate school district levies for special education.
Grant funding Most districts also receive extra state and federal money directed toward special needs, such as "at-risk" programs, or Title 1 grants to help low-income students.
"School funding isn't rational. It's political and emotional. And if you threaten cuts, people will say you're against the kids," said Watkins, who led Michigan schools from 2001 to 2005 and consults internationally in business and education.
The MSU research team, led by professor Sharif Shakrani, agreed to predict statewide savings for the two options of shared services or complete county-level consolidation into about 57 intermediate districts based largely around the lines of one county or more.
Shakrani, an expert in using research to set educational policy, said dollars are saved through economies of scale and eliminating administrative and operational redundancies.
His work doesn't include closing any buildings or shifting any students.
"Many people hear consolidation and they think about closing schools, but that doesn't have to be the case," he said.
The MSU report discusses the political and practical turmoil that comes with forced mergers, and notes many local school leaders "abhor" the idea.
But researchers said Michigan has in place good regional educational networks: the 57 intermediate school districts drawn roughly around county lines. They were created to provide services to member districts that would be too expensive or unwieldy for local districts to offer on their own.
"In Michigan, the ISD system is greatly underutilized. While some have increased their roles to provide more services, many are passive," Shakrani said.
Washtenaw County is among the most active of the intermediate school districts, with a long list of shared services. The latest effort is the sharing of transportation services. It was originally targeted at combining all the county's transportation services into one department, but ultimately only three districts - Ann Arbor, Ypsilanti and Willow Run - signed on for the fall.
There are some costs associated with mergers, which is why it can take up to three years to fully realize annual savings, Shakrani said. Whether annual savings are maintained becomes a policy decision for local or state leaders. For instance, some schools spend the savings to improve instruction or technology, Shakrani said.
Educational quality is another issue Shakrani addressed. Many districts, urban and rural, have high concentrations of students from low-income or impoverished families.
Reducing operating costs could help "improve the quality of education for all students," the report said. Researchers also emphasized there is a lack of consensus on whether countywide consolidation itself affects student achievement.
School consolidation has been an ongoing march in the country since the early 20th century as communities moved from one-room school houses to neighborhood schools and community districts. Michigan dropped from 7,300 districts to 4,900 in the baby boom years following World War II. The number shrank to 600 after the 1964 School District Reorganization Act.
Since 1970, the number has held near 550, leaving Michigan trailing only California, Illinois, New York and Texas in total districts. (Michigan ranks 8th in population and 11th in area.)
Consolidations most benefit small and rural districts, and more than half of Michigan's systems are below a 2,000-student threshold considered a fiscally ideal minimum, researchers said.
In all, Michigan spends more than $12 billion on public education, or more than $17 billion with federal aid included. Within three years of consolidation, savings amount to 8 percent of operating costs, 4 percent of instructional support, 15 percent of administration and 18 percent of transportation spending, the report concluded. It also added that so far, little research-based evidence exists on how consolidation impacts financial problems long-term.
DISTRICTS AND CONSOLIDATION
Historically, Michigan township officials created schools, dividing the township into "districts" that were commonly a single school.
Baby boom era: Michigan had a wave of school district consolidations in the two decades following World War II, a time of prosperity, increasing urbanization and growing student enrollment. The number of districts declined from about 7,300 to about 4,900.
More mergers: Another wave of consolidation occurred around 1970, when inflation was rampant, enrollment was declining overall but suburban populations were growing. The number decreased from about 4,900 to almost 600.
Currently: The total has held at about 550 for 30 years, not counting charter schools. Michigan approved charter school legislation in 1994 and currently has 240 charter schools.
While the shared-services model saves half as much, it can be a more politically palatable option, researchers said.
And the study discusses opposing arguments, such as loss of community identity and history, and the fact that consolidations result in job losses that can impact a local economy. Loss of local school boards is another issue because they provide an avenue for district residents to have a say in what happens in their schools.
Most Michigan school districts "resist any efforts" toward consolidation, Shakrani said, and even if talks begin, it can take years before districts combine.
"Consolidation has a series of legal steps that include a vote of all districts involved," Shakrani said.
Only two mergers have occurred in Michigan in the past 10 years. This month, voters in the Adrian-area districts of Deerfield and Britton overwhelmingly agreed to fully unite their small districts after testing the waters by merging sports teams. The other recent merger was in the Upper Peninsula: Gogebic County's Wakefield and Marenisco.
Legislative efforts to nudge schools toward mergers have fallen flat. State Rep. Fred Miller, D-Mount Clemens, in October introduced a bill to create a committee to eye potential district mergers, modeled after a federal military base-closing process. It sits in the House Education Committee.
As state superintendent, Flanagan wants to push intermediate districts into taking on more responsibilities, under the shared-services model.
"If I could wave a wand over the state, I'd keep the local districts, but there would be a lot more done at the county level, as you see in Florida," Flanagan said. "A countywide system is going to feel so much more impersonal. You have so many places where the school district is the whole identity for the town. When they think of their schools, they have that pride, and they have a voice."
Tom White, the former chief of the Michigan School Business Officials who consulted with Shakrani on the report, said it's more realistic for districts to share services on a countywide level over a five- or 10-year period.
"I think we need to be evolutionary, rather than revolutionary, to have a plan such as this be successful in the long run," he said. "It can all happen in an orderly way, which is not to say there won't be some bumps in the road since you are dealing with people who will be losing their jobs. But if you allow things to happen more naturally, they have a better chance of sticking."
But stopping short of complete consolidation creates different challenges.
A shared-services model has gained traction in the Flint area after devastating loses of 70,000 General Motors jobs and 30,000 students. As a result, the Genesee Intermediate School District assumed business services for 12 member districts.
"There comes a point where your economies of scale are diminished," Superintendent Thomas Svitkovich said. "You have to manage budgets and conduct public hearings and provide the audits for each of the districts. And each of the districts need to file separate reports with the state and federal governments, especially if you have some districts that rely on more grant funding."
Districts also need to buy compatible software for business functions, requiring cash upfront for systems and training, said Superintendent Kevin Konarska of the Kent ISD. The district has worked toward cooperation with a shared data warehouse, a private busing contract for special education students, a teacher union contract template and more.
Flanagan said buying compatible equipment isn't a barrier, since districts routinely replace systems anyway. But he understands why school boards and communities are reluctant to lay off bookkeepers, a transportation director or secretaries to share services.
"It takes some courage," he said. "I understand that you don't want layoffs. But we're moving toward more layoffs anyway, so you might as well keep them as far away from the classroom as you can."
In the end, merging services has benefits beyond paying the bills, Flanagan said.
Consolidation can help communities living in poverty, improving the well-being of the state. Tiny districts, for instance, "can't provide the same level of services."
Watkins said changes will have to come from Lansing. County and local educators are too close to the situation.
"If you've been in the silo all your life, you don't have the vision to see what else is out there," he said. "It's going to take someone with intestinal fortitude. You need to tell people, 'If you want to keep your Bulldogs, Colts and other things, then you're going to have to accept some of these other changes.
"When someone shows you death, you accept serious injury more readily. And like the auto industry, unless they totally revamp the way they do business, they're going to be dead."
David Jesse covers K-12 education for AnnArbor.com. He can be reached at davidjesse@annarbor.com or at 734-623-2534.