Posted on
Sun, Dec 30, 2012 : 5:56 a.m.
Michigan fans plan ahead for Outback Bowl on New Year's Day
By Lisa Carolin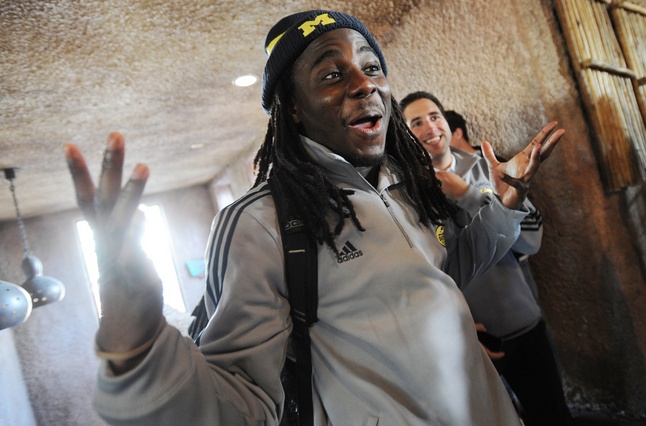 Melanie Maxwell | AnnArbor.com
University of Michigan football fans are divided as they anticipate The Jan. 1 Outback Bowl in Tampa, Fla.: Many fans are staying put right here in the snowy, cold Ann Arbor area preparing to enjoy game day from inside and afar, while a number of fans have followed their team to the welcoming sunny, warm climate of Florida's Gulf Coast.
According to Conlin Travel, which specializes in bowl trips including those for U-M bowl games, many of the 11,000 or so Michigan fans who bought U-M's allotted tickets are enjoying the pre-game activities in the Tampa area this weekend along with the athletes. On Saturday, for example, members of the U-M football team went to Busch Gardens.
While Michigan fans still in Michigan will endure predicted wind chill temperatures in the teens Sunday, members of the Wolverines football team along with the marching band and cheerleaders will spend the day enjoying music, contests and skydivers at Clearwater Beach.
The Outback Bowl takes place New Year's Day at Tampa's Raymond James Stadium and features the SEC's South Carolina Gamecocks taking on the Wolverines. The listed price of a ticket is $75. The forecast is for sunny skies with temperatures in the 70s.
The game kickoff is at 1 p.m., and some Ann Arbor area bars are expecting big crowds for viewing. Scorekeepers on Maynard Street, which is closed through Jan. 7, will open its doors at 11 a.m. Jan. 1 just for the Outback Bowl.
The Arena, on East Washington Street, will also open at 11 a.m., and owner Mike Flore encourages Michigan fans to arrive early.
"Historically it's busy, busy - standing room only," said Fore. "We have nine booths that have their own televisions and are usually the first to go. We have 32 speakers for the game, so people can scream and yell and still hear the game."
Fore says the bar will feature some drink specials as well as T-shirt and mug giveaways during the game.
It will be business as usual January 1 at Buffalo WIld WIngs Grill & Bar on South State Street, according to manager Michael Trombley.
"We have 62 televisions and our overhead audio system will be turned up loud enough," said Trombley. "It's usually a pretty rowdy crowd and a full house on game day."
The M Den on South State Street has seen a good amount of pre-bowl purchasing.
"Bowl purchases are a major part of Christmas shopping, and it all feeds into the whole Christmas season," said Dave Hirth, co-owner of the M Den on South State Street. "We're the retail partner of the U-M athletic department and proud of it."
Hirth says the store has had a very busy season, but that the Outback Bowl has not had quite the impact on sales that last year's trip to the Sugar Bowl did for Michigan merchandise.
What makes the Outback Bowl special? This will be the 18th Outback Bowl, and that makes Outback the longest sponsor of any bowl game.
The significance: If Michigan wins, Outback Steakhouses will offer patrons free coconut shrimp on Wednesday, Jan. 2, and if South Carolina wins, the Bloomin' Onions will be free that day.