Posted on
Mon, Apr 1, 2013 : 6:45 p.m.
University of Michigan basketball fans vying for limited tickets to Final Four game
By Kellie Woodhouse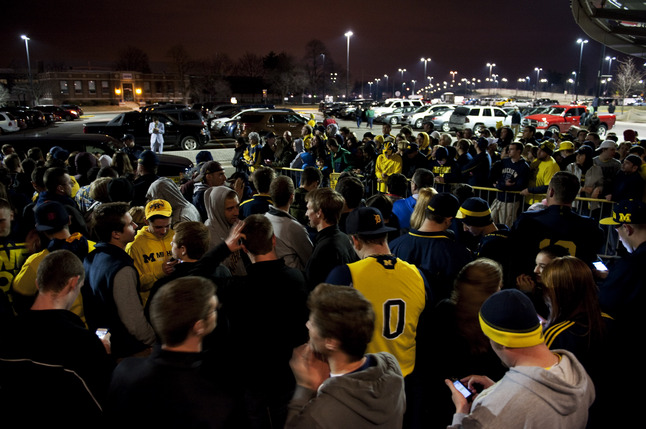 Daniel Brenner | AnnArbor.com
Two decades have lapsed since Michigan last made it to the Final Four and
Wolverine fans are clamoring
to watch their beloved basketball team try again at becoming national champions.
University of Michigan graduate Julie Mclaughlin, who was 9 years old the last time Michigan made it this far in the NCAA tournament, is one of those fans scrambling to get a ticket to Saturday's semifinal game.
The NCAA has allotted U-M 3,950 tickets for the semifinal against Syracuse, but 700 are earmarked for students and the rest are reserved for season ticket holders.
Mclaughlin, now a Colorado resident, is no longer either. Getting a ticket requires some serious stratagem and Mclaughin is working her connections on overtime, she said.
"I am just trying to cast a wide net and see what's out there," she said. "It's kind of annoying, you really have to find the right person at the right time and place. There's a small window for success."
Nonetheless, Mclaughlin says she's determined to watch the semifinal live.
"I booked my plane ticket without having a plan, so I am sort of just playing it by ear," she said. "I've been following Michigan basketball very closely since I was in school."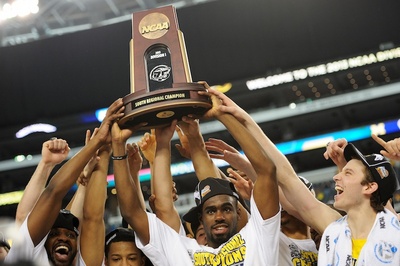 Melanie Maxwell | AnnArbor.com
U-M associate athletic director
Dave Ablauf
said Michigan isn't planning a public sale of tickets. Yet one is possible if not enough season ticket holders buy tickets.
Such a scenario, however, is unlikely.
"We're getting high demand at this point. There's great interest," Ablauf said, adding later: "We don't anticipate a public sale but it's still too early to tell."
Michigan will play Syracuse on Saturday at 8:49 p.m. in Atlanta. If the Wolverines win, they will play the winner of Louisville-Wichita State on Monday night.
There are another 600 tickets to the semifinals available on Stubhub, with ticket prices reaching $5,000 for a seat and $50,000 for a suite. The lowest priced tickets are in the mid-$400s.
When bought from the university, a ticket for the two national semifinal games and the national championship game is $310. Beginning Monday, U-M began offering 3,250 tickets for this price.
Tickets are first offered to season ticket holders with the most priority points, which are established by longevity of loyalty and donations. Each tier has a certain amount of time to buy tickets before the tickets are offered to another tier.
There are 700 student tickets available to both semifinal games at a cost of $40 a game. The deadline for student ticket applications is 5 p.m. Tuesday.
U-M's alumni association is offering travel packages, sans ticket, for $3,119 per person. The packages include airfare, hotel, shuttles and events, but don't include game tickets.
The association did have a limited number of tournament tickets, but sold out early Monday.
"A lot of alumni are asking us [about tickets]. There's a lot of interest in this," said Brad Whitehouse, a representative for the alumni association. "This is a long time coming, so it's just a really big deal for alumni."
Lansing resident and lifelong Michigan fan Scott Greenlee obtained his ticket to the final four through a friend for $250. He bought the ticket before Michigan bested Florida and made it to the Final Four, taking a chance that his favored team would win.
It paid off, big time.
"I couldn't have scripted it any better," said Greenlee, who attended the NCAA final in 1993, when Michigan lost the championship title by six points.
"It was great. The fab five were super popular and obviously very talented," he said, adding that he's "very excited" to watch his favorite team try again for the championship title.
As of Monday evening, Ablauf said he does not know how many of Michigan's allotted tickets have been sold yet.
Kellie Woodhouse covers higher education for AnnArbor.com. Reach her at kelliewoodhouse@annarbor.com or 734-623-4602 and follow her on twitter.