Posted on
Mon, Oct 3, 2011 : 2:59 p.m.
Contract shows Michigan's 2012 season-opener against Alabama worth $4.7M
By Kellie Woodhouse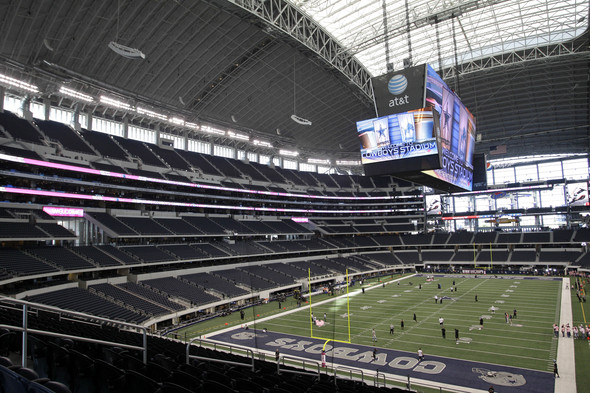 AP Photo
Previous story: Throwback jerseys, first-ever night game part of strategy to market University of Michigan athletics
The Michigan football team will open the 2012 season against the Alabama Crimson Tide at the Cowboys Stadium in Texas.
The game provides a national stage for the University of Michigan as it focuses in strengthening its sports marketing platform.
It also promises a $4.7 million payday.
Michigan athletic director Dave Brandon says the trip to Texas is another step in challenging the status quo of Michigan football, one of his key objectives since he took over as director in March 2010.
"It's another historic occasion for us," Brandon said. "It will be a huge view audience."
Brandon added that by playing Alabama, ranked No. 2 in the nation by the AP poll and No. 3 by USA Today, the Wolverines — ranked No. 12 in the AP poll and No. 11 by USA today— will be part of an audience he expects to captivate millions.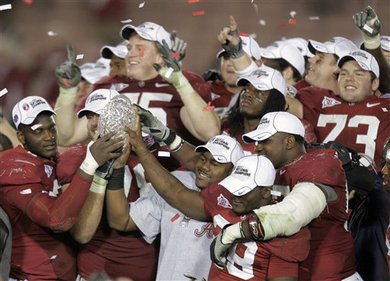 "We see it almost as a preseason bowl game experience," Brandon explained.
The game will be broadcast live by ESPN.
According to a contract among ESPN, the Cowboys Stadium and the University of Michigan, the game will take place on Sept. 1, 2012. AnnArbor.com obtained the contract through a Freedom of Information Act request.
In addition to $4.7 million, U-M will receive 200 tickets, two luxury boxes and one field-level suite. The U-M marching band will receive free entry and reserved seating. U-M cheerleaders, dance team and mascots will also receive free entry.
Officials will provide approximately 25,000 tickets for Michigan to sell.
The Cowboys Stadium has an 85,000-person capacity. Of those seats, 64,000 are reserved seating, 11,000 are suite seating and 10,000 are standing-room only.
The contract also requires U-M to forfeit 22 percent of the gross revenue from all the merchandise it sells during the game.
Like the recent night game against Notre Dame, the game in Dallas marks another first for the Wolverines.
"It's the first time in regular season that we've played in a neutral site," Brandon said.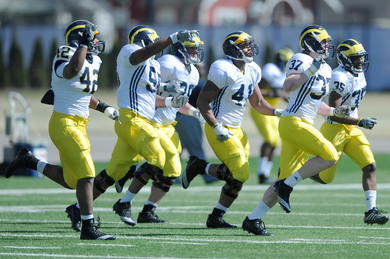 Melanie Maxwell | AnnArbor.com
Brandon said the 967-mile trip is a part of U-M athletics' effort to rebrand itself.
In the past year, U-M has hosted its first night game, purchased and installed a $20 million pair of scoreboards and drastically restructured its athletics marketing arm to include more than a dozen marketing professionals, up from three at the start of 2010.
"Where we were before, I don't know if we would have considered going off campus to play a game like that," Brandon said of the Alabama-Michigan game.
Brandon says the game will create a lot of buzz around Michigan football at the start of a crucial season.
"One of the driving forces behind everything we're doing is to enhance the experience of our student athletes," Brandon said. "The reason we want to create wow experiences…. is because that's why student athletes come to Michigan."
Kellie Woodhouse covers higher education for AnnArbor.com. Reach her at kelliewoodhouse@annarbor.com or 734-623-4602 and follow her on twitter.