With Michigan on the ropes, gubernatorial candidates agree: It's time for change in Lansing
Posted on Sat, May 15, 2010 : 6:04 a.m.
Michigan governor hopeful Virg Bernero has watched the gubernatorial candidate pool dwindle in recent weeks. He now faces only one opponent heading into the Democratic primary.
"When I started, I mean, there were a lot of people in the race," he told AnnArbor.com on Friday. "Now it's down to two. I might win by attrition. I might be the last Democrat standing. Unlikely. But I do expect to be the last Democrat standing Aug. 3."
Ryan J. Stanton | AnnArbor.com
Bernero, who faces House Speaker Andy Dillon in the primary, made an appearance Friday afternoon at the Ann Arbor Area Chamber of Commerce's candidate mixer event.
"Things are going very well," he said of his campaign. "I think I represent the core values of the Democratic Party — proudly so. But at the same time, I'm a pro-business Democrat, because there's no way to be pro-labor without being pro-business. We've got to create jobs. We have got to grow jobs and opportunity in this state. That's what we're all about."
More than 80 candidates for local, state and federal offices attended Friday's event, including Republican gubernatorial candidates Rick Snyder and Pete Hoekstra, both of whom have ties to Ann Arbor.
Snyder, of course, is an Ann Arbor venture capitalist known for his time as president of Gateway Computers and as founder of Ann Arbor SPARK. Hoekstra, a former Fortune 500 business executive from Holland who now serves in Congress, earned his MBA from the University of Michigan in Ann Arbor in 1976.
"I came out of the MBA program with a great foundation in a business climate," Hoekstra said. "Then I had the opportunity to hone my leadership skills for 15 years at Herman Miller and practice them in Congress. Without the background that I got at the University of Michigan, I don't think I would have been equipped to do the kinds of things that I've had the opportunity to do over the last 30 years."
All three candidates cited the importance of education in moving Michigan's economy forward. Bernero said that's especially important in his household.
"My wife's a 20-year public educator in the city of Lansing," he said. "Education is a topic near and dear to our heart. It has always been a priority in our household, and just like it's a priority in most everybody's household. It needs to be a priority at the state budget level and that's where it's gone wrong."
Bernero, mayor of Lansing, said he's been witness to several problems at the state's capital where he sees a broken system and misplaced funding priorities.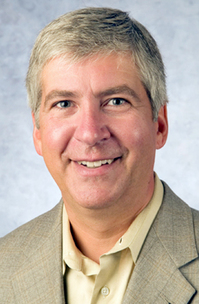 "Ultimately, we've got to make some tough decisions," he said. "Our system of governance of schools is broken. We've got fragmented government. We've got fragmented schools. We're spreading out the money that we spend. We're spending a lot of money on management fees. We've got 83 counties in Michigan, but 550 school districts. The math doesn't add up. It's unsustainable. We're going to have to have some consolidation of services."
Snyder said the current discussion around education in Lansing is flawed.
"All they talk about are funding levels — this funding level or that funding level," he said. "And I'm really disappointed no one's asking the important question. And that is what do we need to do to get each child in our schools a great education each and every year?"
Snyder's campaign has grown in the polls recently. His platform centers around reinventing Michigan and creating jobs.
"We need to reinvent Michigan, not just fix it," he said. "I'm a real world job creator and what we need in this state are more and better jobs — and keeping our young people here as opposed to career politicians just continuing to spend our money."
Snyder said the role of government isn't to create jobs, though.
"It's to create an environment and let free enterprise work," he said. "We've got to get rid of the Michigan Business Tax. It's the worst tax in the United States and I've got a proposal to replace it with a flat 6 percent income tax."
Hoekstra said the state needs to take advantage of the asset it has in the number of educated people coming out of universities like the University of Michigan and Michigan State University and the research that goes on there.
"Create an environment where there's a lot less bureaucracy, a lot less rules, lower taxes, and we will be amazed by what smart people in Michigan can do to get this economy moving again," he said.
Bernero said he wants to make Michigan the No. 1 place in the nation to do business. In the next couple of weeks, he said, he plans to outline a 10-point economic plan on how to accomplish that goal. He said K-12 education is a major focus.
"We'll have an all-out assault on the dropout rate," he said. "Education is economic development and when you have a dropout rate of 30 to 50 percent in your urban centers, that is outrageous. That is mortgaging your future. We cannot sustain that. We're creating the prisoners of tomorrow by tolerating a dropout rate of that level. No civilized society — no first-rate society — can sustain that."
Bernero said he's the best candidate for the job based on his proven track record in Lansing. He cited the city's AA-plus credit rating and the fact that Lansing hasn't raised taxes or spent down its reserves despite the deep recession impacting Michigan.
"We've got $500 million in new investment, we've got new jobs, we have cranes in the air, we've diversified our economy, we have high-tech bioscience, IT, insurance and advanced manufacturing," he said. "You name it, we're getting it done. And I believe what I've done in the city of Lansing, I can do for the state of Michigan."
Bernero served previously as a county commissioner, as well as a state representative and senator in the Michigan Legislature. He also worked as executive director of a statewide nonprofit association that helps families and children with mental illness.
"I've been mayor for five years now," he said. "I'm on the front lines. I've been on the receiving end of some of the nonsense that goes on over at the state capitol. I've been on the receiving end of the budget cuts, and the unfunded mandates, and the pure nonsense, and the gridlock that goes on over there — the partisanship that is hurting people.
"The last thing we need is more of ... the same folks who can't get things done at the capital, who can't properly fund education, who can't get a budget done on time, who've had two government shutdowns. The last thing we need to do is have more of that. We need bold leadership and new leadership. We need a change in direction."
Both Snyder and Hoekstra consider themselves proud Republicans, but both say they're willing to work with Democrats on change in Lansing.
"What we're looking for in Michigan is people who can get solutions," Hoekstra said. "I've worked with Barney Frank on key legislation reforming Federal Prison Industries. I've worked with John Conyers on key issues. I've worked with John Dingell on certain issues. I work on getting things done. I'll do it with Republicans and Democrats and independents."
Snyder echoed those sentiments.
"I'm a proud Republican, but part of this effort is to bring Michiganders together," he said. "We've been too divisive in this state and we need to create and environment where we can win together. And my campaign's about running a very positive campaign, saying there's opportunities for us to move Michigan forward, not spend time on negative things or just bickering."
Bernero was thrust into the national media spotlight last year when he became the leading spokesman for Michigan's struggling automotive companies. His scathing criticisms of Wall Street and Washington led CNN to call him "America's angriest mayor."
"I may be," he told AnnArbor.com on Friday. "But there's a lot to be angry about and my anger is nothing like the anger that's out there in the streets in Michigan. People are angry and they're expressing it in a variety of ways. You see this Tea Party movement. People want to get involved. You see people spending the night at the capitol, putting up tents trying to get the message through to the Legislature to do something. For gosh sakes, we're in a crisis here and these people are dawdling. These folks don't seem to understand the urgency."
Bernero said Michigan is on the ropes.
"People are hurting and it's been business as usual, politics as usual and that's unacceptable," he said. "Am I mad? Yes. But I'm going to do more than just beat my chest."
Before coming to Friday's candidate mixer, Hoekstra said he spent the afternoon working for a company in Ypsilanti as part of his statewide "Michigan Jobs Tour."
"I'm talking to businesses all over the state," he said. "Just about every place that I go to they identify either regulatory burdens or barriers that have been put in place by the state to them growing their business. I did a job at Coach's Catastrophe Cleaning here in Ypsilanti. When the Michigan Business Tax came into place, it increased their taxes sixfold. That is a barrier to them being a successful company, growing, expanding and hiring more workers."