Posted on
Thu, Dec 1, 2011 : 4:10 p.m.
Michigan House passes legislation allowing privatization of local building departments
By Ryan J. Stanton
The Michigan House today approved legislation that would amend state law to allow local governments to contract with private companies to operate their building departments.
The bill also would expand the definition of "building official" in the State Construction Code Act of 1970 to include employees of private companies.
House Bill 5011, sponsored by state Rep. Mark Ouimet, R-Scio Township, was approved by a 77-30 vote and now goes to the Senate for consideration.
Ouimet believes the change in law will foster new development by allowing Michigan businesses to receive local building permits more quickly and efficiently.
"This legislation gives local governments another tool in their toolbox to encourage economic development and help create jobs for local families," Ouimet said in a statement. "While our upcoming state tax reforms will give job creators the chance to expand and hire more workers, this legislation helps ensure that the process to do so is efficient and timely."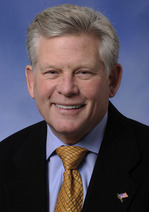 Specifically, the bill would authorize local governments to contract with private companies for specific administrative and enforcement activities, including building inspections and plan reviews.
Private companies would not be able to issue orders, notices, certificates or permits, but could process and deliver documents pending the approval of a building official.
Under state law, a local government enforcing the State Construction Code must provide the services required by the act, including issuing permits and orders, conducting inspections, performing plan reviews and determining the safety of structures.
For a variety of reasons, many local governments already have opted to privatize those services by contracting with private companies.
"While this is a common practice, the act does not appear to be clear on what responsibilities can be delegated to the private organization," according to a House Fiscal Agency analysis released this week.
According to a 1975 attorney general's opinion, local governments can contract with private companies for inspection and technical services, but the designated enforcing agency must be a public official and all final determinations must be made by the enforcing agency.
"This bill is an attempt to provide clarity on the functions private organizations can legally perform and who is legally considered a building official," the analysis states.
Specifically, the bill would allow a local government to contract with a private company to do any of the following:
Receive applications for building permits.
Receive payments of fees and fines on behalf of the governmental subdivision.
Perform plan reviews using plan reviewers registered under the Building Officials and Inspectors Registration Act of 1986
Perform inspections using inspectors registered under the Building Officials and Inspectors Registration Act of 1986
Approve temporary service utilities.
Make determinations that structures or equipment are unsafe.
Process and deliver correction notices.
Issue orders to connect or disconnect utility service in emergency situations.
Issue orders to vacate premises in emergency situations.
Private companies also would be able to process and deliver any of the following after their issuance has been approved by a building official:
Orders to connect or disconnect utility service in a non-emergency situation.
Orders to vacate premises in non-emergency situations.
Building permits.
Temporary or permanent certificates of use and occupancy.
Orders to suspend, revoke, or cancel a building permit or certificate of occupancy.
Violation of notices.
Notices to appear or show cause.
Stop work orders.
Orders to remedy noncompliance.
Ouimet worked with lawmakers from both parties to build support for the bill, which is being co-sponsored by state Rep. David Rutledge, D-Superior Township, and 11 others.
As chairman of the House Local, Intergovernmental, and Regional Affairs Committee, Ouimet said he has made it a priority to streamline government and improve services.
He noted some municipalities already contract out for building permit services, and his bill will ensure the practice can continue while encouraging others to improve their permit processes.
Local municipalities still have the option to contract with county or state building officials for the same services under the proposed legislation.
Ryan J. Stanton covers government and politics for AnnArbor.com. Reach him at ryanstanton@annarbor.com or 734-623-2529. You also can follow him on Twitter or subscribe to AnnArbor.com's e-mail newsletters.