Posted on
Thu, Oct 27, 2011 : 5:59 a.m.
Michigan Islamic Academy vows litigation after Pittsfield Township rejects rezoning for school
By Tom Perkins
The Pittsfield Township Board of Trustees rejected plans for a new Islamic academy proposed on residential property in the township.
Trustees voted unanimously to deny a zoning change request by the Michigan Islamic Academy needed to allow the project to move forward.
In response, an attorney representing the school said they will be "pursuing litigation and we will do it soon."
The vote brings to a conclusion the latest chapter in the debate over whether the 360-student school should be built at the intersection of Golfside and Ellsworth Roads.
The board unanimously agreed with an August 5 split Planning Commission vote to recommend that the Board reject the rezoning request.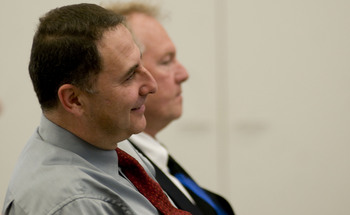 Tom Perkins | For AnnArbor.com
There was no board discussion on the issue on Wednesday and Township Supervisor Mandy Grewal declined to offer reasoning behind the board's unanimous vote.
"It is their prerogative to pursue whatever venue they choose to," she said after being asked about possible litigation. "We choose to stay committed to transparency and respect."
Lena Masri, a Council on American Islamic Relations and Michigan Islamic Academy attorney, said she was disappointed by the decision, and said she believes the school's constitutional rights have been violated as well as their rights under the Religious Institutions Land Use Protection Act (RILUPA).
"We are looking into other options and requesting the (U.S.) Department of Justice intervene to investigate this case for constitutional infringement and potentially join us in litigation," she said.
CAIR recently sent a letter to the Department of Justice alerting them to the situation. In the event the school's rezoning request and plans were rejected, CAIR previously made clear they would ask the department to launch a full investigation.
At the August Planning Commission meeting, commissioners opposed to the rezoning and township staff stated some of the issues regarding internal traffic circulation on the property weren't addressed. They also raised concerns over potential traffic issues on Golfside and Ellsworth.
Several planning commissioners also stated that a school shouldn't be built because residents in the neighboring Silverleaf subdivision didn't expect a school on the property when they moved in.
The property is zoned residential PUD and the MIA was asking to have it changed to a non-residential PUD, which is still consistent with the township's master plan.
The property was originally zoned as part of Silverleaf subdivision, but was foreclosed and went back to the lender.
Planning Commission members also said some requirements regarding open space, landscaping and lighting had not been met.
But Masri said the MIA has met "every single" requirement the planning commission put forth and said the school has been forced to expend "tens of thousands of dollars" more than other applicants seeking rezoning. She stressed that a religious school has additional protection under the constitution and RILUPA.
"MIA has been treated differently," she said. "They have been asked to conform to requirements that other applicants have not been asked to meet. And even after meeting those requirements they're still being denied their religious right to operate."
She said one example of MIA being treated differently was the planning commission ignoring the findings of two separate traffic studies that said the school would have little impact on traffic in the area. Masri said it's "longstanding practice" for the planning commission to adopt such studies' findings.
"It's an objective finding that there is not going to be a traffic problem," she said. "But in this case, the planning commission decided to put that aside and, based on their own subjective opinion, decided they think there's going to be traffic so they should deny.
"This is something that has never been done in Pittsfield. Other applicants have never been treated that way."
School officials have said since July that the school will not house more than 360 students and plans to include a community center - which still were mentioned in the Board's resolution - have been scrapped.
"We are not looking to expand and to make a big building; we just want one that's the right size for us," Tarek Nahlawi, a member of the MIA board, said during public comment.
"Our goal is a decent school for our children. We've met the requirements for the planning commission and met the requirements for your maser plan."
Opponents to the school say the 850-student Fortis Academy on Golfside already causes traffic back ups at the start and end of the school day, and those problems would only be exacerbated by another school.
During public comment, opponents to the school also reiterated concerns over safety, and residents from the adjacent Silverleaf subdivision said they never expected a school would be built on the property when they moved in.
Plans call for a building on a 26-acre parcel on the south side of Ellsworth, where Golfside dead-ends. Cars would exit via a new, short street that would create a four-way intersection at the dead-end.
The driveway running in front of the school is designed to accommodate 70 cars and runs diagonally from Ellsworth to the new street. Nahlawi said the school, currently located on Plymouth Road in Ann Arbor, has nearly 200 students enrolled. Many families carpool, and the school also has two buses and vans, Nahlawi said, so there wouldn't be a situation where the traffic is backed up out to Ellsworth.
Robert Aldridge summed up the thoughts of most who spoke against the school when he said he didn't oppose an Islamic school, but explained his opposition was based in safety and traffic concerns.
"I'd love to have that school in Pittsfield Township, just not in my backyard ... we don't want anything in our neighborhood; we don't want a Catholic school, a Burger king or a Toyota dealership," Aldridge said. "Most who favor this don't live in our neighborhood, they live somewhere else."
After the meeting Nahlawi said he tried to contact Board members and Grewal to discuss the plans, but they refused to meet with the MIA.
"I think we're dealing with a closed circle," he said. "We've done everything they have requested ... and for some reason there was blockage."