Posted on
Tue, Oct 5, 2010 : 1:38 p.m.
Michigan League of Conservation Voters challenges Snyder and Bernero to answer eight questions on the environment
By Ryan J. Stanton
The Michigan League of Conservation Voters today sent a pair of open letters to Rick Snyder and Virg Bernero, challenging both candidates to answer an identical set of questions on environmental issues the LCV says have yet to be answered in the gubernatorial race.
Snyder, a Republican businessman from Ann Arbor, and Bernero, the Democratic mayor of Lansing, both were endorsed by the LCV in their respective primary races.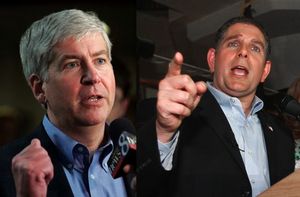 The LCV, which has offices in Ann Arbor, so far has chosen not to endorse either Snyder or Bernero in the general election.
"We were happy to see both of our endorsed candidates make it out of their primary fights, but we will continue to hold them accountable to the commitments they are making to Michigan's sustainable future," Lisa Wozniak, the LCV's executive director, said in a statement today.
"We are not seeking to attack either of these campaigns with these questions," Wozniak added. "We are simply asking them to go on the record on these important issues. Whether they answer our letter directly, or respond question by question as our members and allies show up with them at town halls, we look forward to hearing their responses."
The questions are based on a series of tracked positions the LCV released before the primary in a piece called "Charting the Governor's Race." The questions also take into account more recent information logged on the LCV's Candidate Tracker.
Click here to read the open letter to Snyder.
Click here to read the open letter to Bernero.
Click here to view the LCV's "Eight Final Questions" flier.
Ryan Werder, the LCV's political director, said in a statement today that Michigan voters deserve to know what they are voting for on Nov. 2.
The eight questions touch on the state's Renewable Portfolio Standard, a moratorium on coal plants, wind power, comprehensive water protection, the Michigan Department of Natural Resources and Environment budget, funding for state parks, concentrated animal feeding operations or CAFOs, and sulfide mining in Michigan.
"We will be providing fliers with these questions on them to our members and other concerned citizens to bring to the candidates' open forums," Werder said. "Michigan LCV will then update our Candidate Tracker to reflect the answers as they come in. Of course, if it is easier for the candidates to just answer them in an open letter back to us, we will be very happy to post that up, as well, with our thanks." The LCV is a nonpartisan, nonprofit group that seeks to promote an environmental agenda by electing, educating and holding officials accountable for their votes and actions. Ryan J. Stanton covers government and politics for AnnArbor.com. Reach him at ryanstanton@annarbor.com or 734-623-2529.