Posted on
Sat, Apr 6, 2013 : 5:58 a.m.
Michigan Memories: Fans recall an 'electric' atmosphere during the 1993 basketball season
By Kellie Woodhouse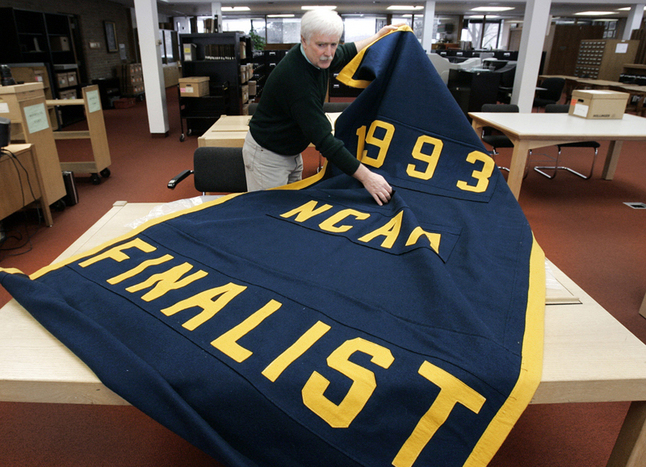 Associated Press
It's been 20 years since the
University of Michigan
men's basketball team last reached the Final Four, but you won't find any trace of its second-place NCAA tournament finish in the university's normally abundant historical library.
That's because Michigan's second place finishes in 1993 and 1992 essentially have been erased from the history books due to NCAA sanctions resulting from players taking money from prominent booster, Ed Martin.
But before the scandal came to light and Chris Webber was banned from affiliation with the school, the 1993 basketball team was a point of pride for Michigan. That April 5 championship game against North Carolina was a pivotal moment for Wolverines fans and the Fab Five was revered in school history.
Now there's a new team, new coach and new star players — all of whom aren't marred by the scandal that taints and erases the victory of two decades ago. They represent a new chance for a victory U-M's eager fan base can be proud of.
"We've been through so much in the last 20 years. It's kind of a scary thought that we're getting back to where we were," said Lorin Burgess, an Ann Arbor resident and U-M grad who was in the basketball band from 1990 until 1995. "It's a lot of good, familiar feelings and its good to see us back on top."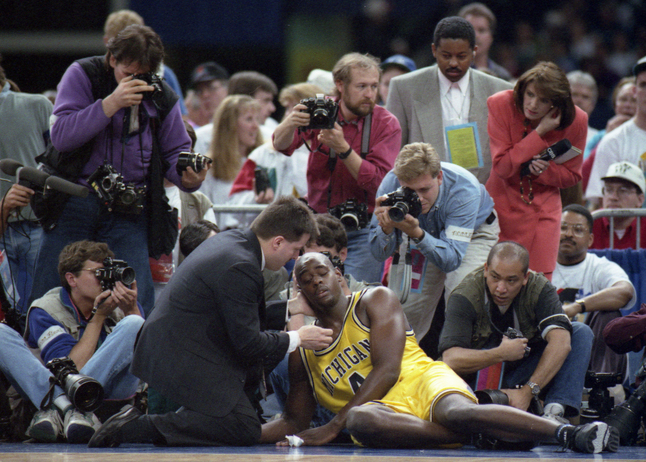 AP photo
In this photo, Michigan's
Chris Webber
gets lots of attention after an injury during the 1993 NCAA championship game against North Carolina.
Burgess recalled how campus, and the nation, felt about the key players at the time.
"At that time the Fab Five was not liked by most of the country. They were the ones that came in with baggy shorts and black socks and these attitudes," he recalled. The 1993 season coincided with the Fab Five's sophomore year. "[Michigan fans] felt special. It was sort of an us-versus-the-world thing."
Recalled longtime Michigan fan Scott Greenlee, who attended the 1993 championship game: "The Fab Five were super popular and obviously very talented."
U-M staffer Thomas Schneider, a student adviser at the time, recalled basketball being the most buzzed about sport on campus, even bigger than football for most students.
"Students were very excited," he recalled. "I was surprised at how many people liked Michigan basketball more than Michigan football."
Burgess said the atmosphere on campus was "electric."
Fab Five player Jimmy King says even today people approach him about the team.
"People see me today and tell me where they were, what they were doing and who they were with when we made our runs," he told Mlive. "And now, I get to do the same thing."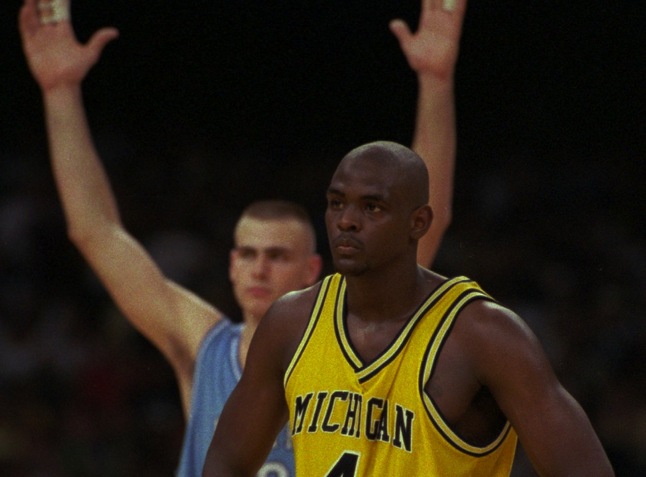 Associated Press
In this photo, Webber stands by as North Carolina's Eric Montross celebrates during North Carolina's technical foul shots in the final seconds of the 1993 national championship game.
Michigan was assessed a technical foul after Webber erroneously called a timeout with just 11 seconds remaining in regulation and Michigan trailing by two. North Carolina won, 77-71.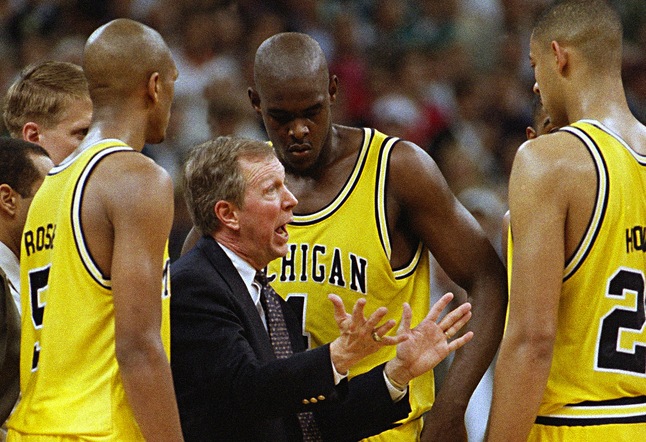 AP Photo
Michigan players listen to coach Steve Fisher during the last official timeout of the 1993 national championship game against North Carolina.
Kellie Woodhouse covers higher education for AnnArbor.com. Reach her at kelliewoodhouse@annarbor.com or 734-623-4602 and follow her on twitter.