Scalpers say Michigan-Notre Dame football game tickets are hard to find, driving prices up
Posted on Sat, Sep 10, 2011 : 6:48 p.m.
With tickets for the Michigan football team's first home night game tonight in high demand, some ticket scalpers near the stadium are raising their asking prices as the game approaches and tickets get harder to find.
Tickets for the historic game have already been selling for steep prices, with StubHub! tickets ranging from $199 to $4,000 per ticket earlier this week.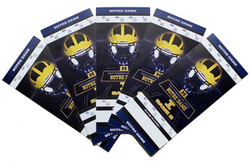 Shortly before 6 p.m., with two hours to go until kickoff, scalpers were scattered along South Main Street outside the Big House waiting for people willing to pay a hefty sum to watch the game.
Scalpers reported selling tickets from $200 to $500 but anticipated those prices rising as kickoff nears.
"Ticket prices will go up in the next few hours," one scalper said. "Now it's nice outside and people are going to really want to go to that game."
With the U-M Athletic Department Ticket Office long sold out of tickets and the peaked fan interest in the first-ever night game, scalpers said there are very few available tickets left.
"There aren't a lot of tickets floating around," a scalper said. "Really, there can't be more than 100 extra tickets out there and that's what is going to drive prices up."
One scalper wearing an "I buy and sell tickets" sign, said he's having a tough time peddling tickets because he can't find any.
"It's rough because for a game like this there aren't many tickets left," he said. "I only have a pair to sell right now."